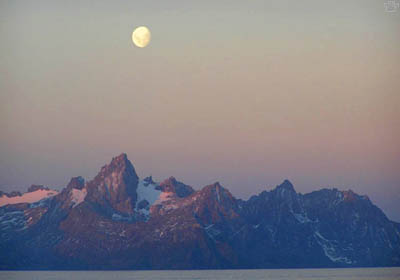 Moonrise over South Georgia.

Part 6. The Subantarctic Islands

Most islands around the Scotia Sea are known as the Scotia Arc - they are summits of widely curved underwater mountain ridge, connecting the southern tip of South America with the northern tip of the Antarctic continent. This ridge, the Andes and the Antarctic Peninsula are all parts of a huge mountain system, stretching all the way to Alaska. The Arc once served as a land bridge between the two continents, just as geologically similar Lesser Antilles were once in place of present-day Central America. Then, just as the Lesser Antilles, the Arc islands were pushed far eastward by plate movement.

South Georgia.
| | | |
| --- | --- | --- |
| Three Brothers Peaks, South Georgia. | The Subantarctic part of the Arc includes South Georgia, nearby islets and South Sandwich Islands. I've only been to South Georgia so far. | Mount Sabatier, South Georgia. |
| | |
| --- | --- |
| Risting Glacier, South Georgia. | Mount Sugartop and Hamberg Glacier, South Georgia. |
| | | |
| --- | --- | --- |
| Mount Paget (2,934 m) is the highest peak of South Georgia. | South Georgia is one of the most scenic places in the world. The main island is a wall of mountains, with twelve peaks rising above 2,000 m. There is almost no level ground, except for Hestesletten near Grytviken and Salsbury Plain near the Bay of Isles. | Paulsen Peak, South Georgia. |
| | |
| --- | --- |
| Iceberg in Cumberland Bay. | Iceberg off Cape Disappointment. |
| | | |
| --- | --- | --- |
| Cook Glacier, South Georgia. | The mountains are heavily glaciated. More than fifty glaciers reach the sea, and small icebergs can often be seen calving from ice walls. The landscape is constantly changing due to the retreat of glaciers, which had started in the 1880s. Unlike most other islands of Scotia Arc, South Georgia has no volcanoes. It does, however, consist mostly of volcanic sediment. Despite numerous visits and even lengthy stays by various scientific expeditions, some parts of the main island have never been explored, and many high peaks are yet to be climbed, especially in areas with no protected landing sites. | Gold Harbour, South Georgia. |
The area around Mount Normann is geologically the youngest part of South Georgia. It's also one of the less explored regions of the main island.
| | | |
| --- | --- | --- |
| Rare clear view of South Georgia's southwestern coast. | The climate of the islands is very wet and windy, with up to 1 m/3' of snow cover at sea level, and very few sunny days, especially on southwestern side. | A more typical view of South Georgia. |
| | |
| --- | --- |
| The climate of the northeastern side is milder, except for fierce katabatic winds. | Summer day off South Georgia. |
| | | |
| --- | --- | --- |
| Cumberland East Bay, South Georgia. | Fifteen fjords penetrate deep into the mountains, providing anchorages and shelters for wildlife. The fjords were also sites for human settlements - sealing and whaling stations. Today the islands are a Nature reserve, with only one tiny village and one research station. The wildlife is mostly recovering. But the whalers' legacy - introduced plants, reindeer, and especially rats - still causes problems. Because of rats, small birds now breed mostly on offshore islands. | A wrecked whaling ship, Cumberland East Bay. |

King penguins (Aptenodytes patagonicus), part of South Georgia's
200,000-strong population. Grytviken.

Antarctic fur seal (Arctocephalus gazella) and tussock grass
(Paradiochloa flabellata), Grytviken.

King penguins are among the few seabirds species that are
present on the shores of South Georgia year-round. Grytviken.
Despite its harsh climate, South Georgia has one of the largest concentrations of wildlife in the world. In addition to about eighty million breeding seabirds (see previous pages), it's used by two million fur seals, 300,000 elephant seals, and up to 100 Weddell seals. Countless other marine mammals inhabit surrounding waters.

Bird Island, located one mile off the northwestern tip of the
main island, has some of the largest seabird colonies.
South Georgian pintails (Anas georgica). It's a very adaptable little duck, known to survive on carrion if grass is covered by deep snow in winter. Grytviken.

Southern elephant seal (Mirounga leonina),
Grytviken.
There are no native land mammals, reptiles, amphibians, or freshwater fishes. The only songbird is South Georgia pipit (Anthus antarcticus), similar to correndera pipit shown on the previous page. Since the introduction of rats it occurs mostly on offshore islands and in areas isolated by glaciers. The only other non-marine birds are an endemic race of pintail and a similar, but smaller duck called spotted teal (A. flavirostris). The teals have arrived just a few years ago, and still number less than a hundred. Tussock grass (above) is the largest plant, and burnet is the commonest. Altogether, there are 19 species of native flowering plants, plus 35 introduced ones, 6 species of ferns, and one species of clubmoss.

Antarctic burnet (Acaena magellanica),
Grytviken.
| | |
| --- | --- |
| Lichens and mosses, Grytviken. | Mosses and young burnets, Grytviken. |
| | | |
| --- | --- | --- |
| Moss bed with lesser burnets (A. tenera), hills above Grytviken. | Mosses and lichens are surprisingly diverse here, with about 200 species of each. Some peat moss beds are over 9,000 year old, dating back almost to the end of the last ice age. Except for lichens and algae, the vegetation is mostly confined to the coastal areas. | Moss bed, Grytviken. |
| | |
| --- | --- |
| Allardyce Range, South Georgia. | Salvesen Range, South Georgia. |
| | | |
| --- | --- | --- |
| Southeastern coast, South Georgia. | A few cruise ships visit South Georgia each summer. The only other way to get there is to sail on your own boat. | Southwestern coast, South Georgia. |
| | |
| --- | --- |
| Icebergs stuck on shallows, Cumberland East Bay. | Wilckens Peaks, South Georgia. |

Satellite view of South Georgia
(courtesy NASA).
Unlike South Georgia, South Sandwich Islands are very seldom visited. They are very remote, lack good harbors, and the weather is usually very bad there. They are a chain of active volcanoes, inhabited by thousands of seals and a few million seabirds, most notably chinstrap penguins (Pygoscelis antarcticus). They form a transition between South Georgia and the much less hospitable lands further south.

Satellite view of Visokoi Island, South
Shetland Islands (courtesy NASA).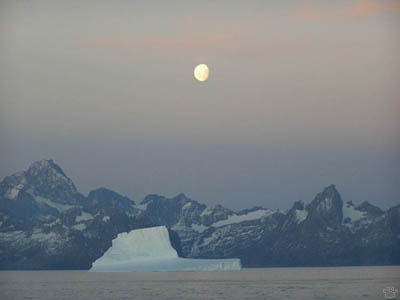 Moonrise over South Georgia.
Part 7: The Far South
Back to Part 5