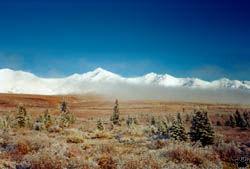 Cold morning, Denali National Park, Alaska.


Alaska and Yukon


In early September 2000, I made my first trip to Alaska. I only had two days, but it turned out to be one of my best weekends ever. I drove from Anchorage to Fairbanks, then to Valdez, and back to Anchorage, visiting Denali and Wrangell-Saint Elias national parks and some other nice places along the way. Visiting Alaska for such a short period of time is always risky, because local weather is so unpredictable; but I was lucky to have one sunny day, and fall colors were at their best. I spent my last evening in Anchorage, looking for moose in city parks, and finally found two of them on a major street leading to the airport. As I flew back to California, I realized that, in just one weekend, I'd visited almost all of Alaska's places of interest accessible by a car. But I liked this state so much that decided to devote my next summer to exploring it.
| | | |
| --- | --- | --- |
| Summit of Pink Mt., British Columbia. | In June 2001, I drove from California to Yukon Territory and Southern Alaska (9000 miles/15000 km). | Arctic Circle in Richardson Mts., Yukon. |

Mount McKinley (6193 m/20,320'),
view from Denali State Park, Alaska.
Alaska has almost everything the North has to offer. Its volcanoes are almost as active as those of Kamchatka, its glaciers almost as impressive as in Greenland, its forests almost as pristine as in Canada, its tundras almost as vast as in Siberia, its fjords almost as spectacular as in Norway, its marine wildlife almost as abundant as around Kuril Islands, its large mammals almost as tame as in the Northern Rockies, and its mountains are simply the tallest anywhere at high latitudes.

Mount Wrangell volcano (4949m/
16233'), Wrangell-St.Elias Nat.Park.

Morning, Alaska Range.
Alaska Range and Wrangell-
St. Elias Mountains are the highest ranges.

Mount Caribou, Alaska Range.

Edge of Worthington Glacier,
Chugach Range, Alaska.
Atop these ranges lies a mysterious world of endless glaciers and icefields. Except for some fringe areas, it is almost inaccessible, unless you are able to rent a small airplane or helicopter. Only mountaineers visit it regularly, but they try to avoid glaciers or pass them as soon as possible, paying no attention to the hidden beauty of icefalls and glacial caves.

Icebergs on Portage Lake,
Kenai Peninsula, Alaska.
Aerial views of peaks, glaciers, fjords and icefields,

Haynes area, Alaska/British Columbia border.

Reid Glacier have already
retreated above sea level.
Glacier Bay.

John Hopkins
Glacier,
Glacier Bay.
In Glacier Bay Nat. Park and other parts of Southern Alaska, many glaciers flow down to the ocean, although most of them are rapidly retreating.

View of Mt. Adams
(4161m/13650')
from Glacier Bay.

Kittiwakes (Larus trydactylus)
feeding on krill in a glacial cave,
Glacier Bay.
Calving
icebergs,
Margerie
Glacier,
Glacier
Bay,
Alaska.

1----->

2----->

3----->

4----->
| | | |
| --- | --- | --- |
| Ogilvie Mountains near Dempster Highway, Yukon. | Tombstone Mt., Ogilvie Range. | Richardson Mts. west from Makenzie River, Yukon. |

Moose (Alces canadensis), feeding during sunny
midnight, Ogilvie Mts., Yukon.
Richardson and Ogilvie mountains of Yukon Territory are lower than the ranges of Alaska. They are located at the edge of Arctic tundra, so their colors are tender and beautiful, and their flora and fauna are very diverse.

Tundra caribou (Rangifer tarandus),
Richardson Mts, Yukon.

Loco (Oxytropis sp.), Arctic Circle
at Dempster Hwy, Yukon.

View of Richardson Mts. from Ogilvie Mts, Yukon.

Alpine poppy (Papaver kluanensis),
Peel River, Yukon.
| | | |
| --- | --- | --- |
| Timberline, Denali National Park, Alaska. | Alaska is one of the few places were the fall colors of taiga and tundra are at their best at the same time - usually the second week of September (see Fall Colors page for details). | Upper edge of tundra, Copper Valley, Alaska. |

Mousing coyote(Canis
latrans), Five Finger
Rapids, Yukon.
Many Alaskan animals can be easily seen in city parks and suburbs, but are often difficult to find in more remote areas because of hunting. In national parks, there are so many people that almost nothing can be seen in the vicinity of major roads. The good thing is, nocturnal animals can be observed in broad daylight from April to August.

Porcupine (Erethizon
dorsatum), Denali
Highway, Alaska.
| | | |
| --- | --- | --- |
| | | |
| | | |
| --- | --- | --- |
| Moose, Kluane Mts, Yukon. | Mountain goats, Glacier Bay. | Mountain goats, Glacier Bay. |
| | | | |
| --- | --- | --- | --- |
| | | | |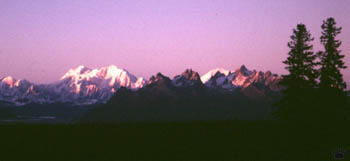 View of Alaska Range from Parks Highway.