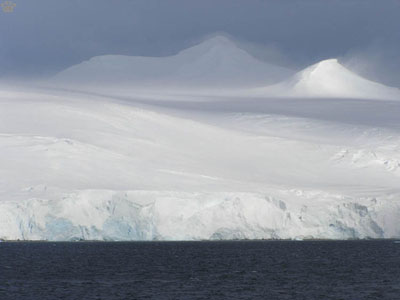 Icefields of the Antarctic Peninsula.

Part 7. The Far South

Emerging from the stormy Scotia Sea at its southern edge feels like stepping out of inter-dimensional portal on some distant planet. This is a world shaped and dominated by ice. Marine life flourishes under ice floes, islands are carved by icefields and glaciers, and icebergs are never far away.

| | |
| --- | --- |
| Iceberg off South Shetland Islands. | Coronation Island, the largest of the South Orkneys. |
| | | |
| --- | --- | --- |
| Mount Noble (3817 m), the highest peak of the South Orkneys. | The South Orkney Islands are the northernmost part of the Antarctic proper. They are just south of 60 deg. Southern latitude, so they don't belong to any country. In addition to large seabird and fur seal colonies, they have a lot of grass and moss beds around protected coves. | The South Orkney Islands are much colder than South Georgia. |
| | |
| --- | --- |
| Shackleton Glacier, Elephant Island. | Southern coast of Elephant Island. |
| | | |
| --- | --- | --- |
| Elephant Island. | South Shetland Islands are technically outside the Scotia Sea, except for Elephant and Clarence Islands. These islands are all volcanic, with icefields on top and almost no protected anchorages. They are inhabited by penguins, various petrels, and Southern elephant seals. Getting to South Orkneys and South Shetlands can sometimes be difficult because of numerous icebergs drifting from Weddell and Bellingshausen Seas further south. | Rowett Island, South Shetlands. |
Small volcanic islands around Coronation I: Gibbs Island (left) and Cornwallis Island (right).
| | | |
| --- | --- | --- |
| Mountains above Hope Bay, Antarctic Peninsula. | Only the very tip of the Antarctic Peninsula reaches the Scotia Sea. This is by far the warmest part of the Antarctic Continent: the sea is usually ice-free by January, and summer temperatures are often above freezing. Some brave people have even managed to visit the area by small private yachts with no engines. More than half of all research stations in the Antarctic are located here and on the islands to the west. Extensive icefields cover the interior of the Peninsula, but many of the shores are ice-free, and there are relatively warm oases such as Hope Bay, with its huge colony of Adelie penguins. | Adelie penguins (Pygoscelis adeliae), Hope Bay. |
Shores of the Antarctic Peninsula. Sometimes it's hard to tell where the ice ends and the fog begins.
| | | |
| --- | --- | --- |
| Lichens, Hope Bay. | The vicinity of penguin colonies is the best place to look for Antarctic plants - lichens, mosses, and algae. There are also two species of flowering plants on the Peninsula, but they are small, very local, and difficult to find. Terrestrial fauna includes tiny flightless midges, mites, and various microscopic animals in lakes and moss beds. The sea is full of underwater life, but it is difficult to see unless you have scuba gear, or at least a dry suit and mask/snorkel. | Algae, Hope Bay. |
Sunset outside Hope Bay.
| | | |
| --- | --- | --- |
| Icebergs off Antarctic Peninsula. | Bransfield Strait between the Peninsula and the South Shetlands is known as the Iceberg Alley: lots of icebergs float here or sit on the shallow bottom. Some stay in place for years. | View of the Peninsula from Bransfield Strait. |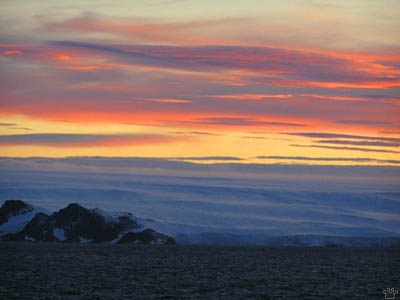 Sunset over icefields, Antarctic Peninsula.
Part 8: Just Ice
Back to Part 6