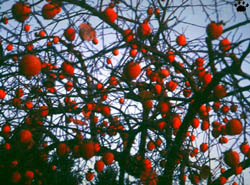 Persimmon (Diospyros virginiana), Virginia.


Part 4. Beyond the tree leaves

Fall colors are not just tree leaves. Shrubs, grasses, mushrooms, lichens, mosses, berries and late flowers all add their own touch.


Lichens Xanthoria,
Valaam, Russia.


Berries of Euonymus sp.,
Sakhalin I., Russia.

Polar bear feeding on berries,
Wapusk Nat. Park, Canada.

Berries of Vaccinium sp.,
Churchill, Canada.

Predictably, some of the most exciting colors can be found in the North, but in this case the South is not far behind.

Sedge swamp,
Yellowstone, USA.
Fall colors of alpine tundras: left -Rose Crown (Sedum (Rhodiola) rhodanthum), right - King's Crown (S. (R.) rosea). Spanish Peaks, Colorado.
| | | |
| --- | --- | --- |
| | September mushrooms of Canadian forests, upper row, left to right: birch-loving bolete (Leccinium scabrum), comb hericium (Hericium ramosum), yellow earth tongue (Microglossum rufum); bottom row, left - orange button (Xeromphalina campanella), right - indigo milk cap (Lactarius indigo). | |
Assorted leaves of herbs and shrubs, New England.

Fall crocus (Crocus speciosus), Mzymta River, Caucasus.

"Fall
daffodils"
(Sternbergia
lutea),
Famagusta,
Cyprus.

Chrysanthemum (Dendranthemum aureum), Taoshan, China.
| | | |
| --- | --- | --- |
| | Fall-flowering crocus are the most beautiful flowers of Mediterranean Autumn. Some are common, others vanishingly rare and difficult to find. There are about 140 species, but less than 30 of them bloom in the fall, others - in spring. | |
Various fall-flowering crocus (Crocus spp.) from Europe, Middle East, Caucasus and Central Asia.
| | | |
| --- | --- | --- |
| | Colchicums are often mistaken for crocuses. They also bloom in the fall, and are most diverse in the Mediterranenan. Many of them are very local and endangered. | |
Various fall-flowering colchicums (Colchicum spp.) from Europe, Middle East and the Caucasus.
Wild asters (Aster spp.) are the commonest fall wildflowers in most of North America.

Dwarf willows (S. nana) and
mosses,Cape Mearns,Canada.

Sitka willows (S. sitchensis),
Wind River, Oregon.
Twigs of willows (Salix) often remain the brightest spot in the forest or tundra long after shedding leaves.

Bebb willows (S. bebbiana),
Churchill, Canada.

Thicklet of dry Garrettia
plants, Kyburz, California.
| | |
| --- | --- |
| Denali National Park, Alaska. | Denali State Park, Alaska. |

September in Kyzylkum Desert,
Uzbekistan.
Deserts also have fall colors, but nobody pays any attention to them. They are the last in season, being in their best in November and December in sage deserts, and in January and February in subtropical ones, such as Death Valley and Mojave.

Early snow in Caspian Desert,
Kazakhstan.
| | |
| --- | --- |
| Winter colors in Mojave Desert, California | Winter colors in Death Valley, California. |


Alpine berries, Mount Washington, New Hempshire.