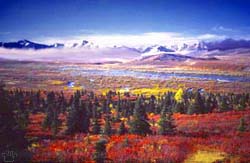 Foothills of Alaska Range in September.


Part 3. Coniferous forests and tundras.

Millions of people pouring into the forests each fall to see yellow and red leaves usually think of conifers as a nuisanse. Their green crowns stick out of the canopy, seemingly indifferent to the change of seasons. But some coniferous trees do change color in the fall, and rival the best of hardwoods in beauty.


Baldcypress swamp, Georgia.

Baldcypress swamp, Alabama.
One such exception is an ancient tree called baldcypress (Taxodium distichum). Baldcypress swamps of the Southeastern United States are among the world's most beautiful forests at any time of the year, but in November they suddenly turn brown, copper, or rusty-colored.

Baldcypress cones, Florida.


Larch Larix decidua, Karpaty, Ukraine

Larch Larix decidua,
Tatry, Slovakia
In southeastern Siberia, Northern Japan, parts of Alps, and Northern Rocky Mountains, "normal" fall colors are followed by a brief outbreak of golden-yellow in late fall, when larch trees prepare to shed their needles. Larches are also widespread in boreal forests of Canada, Mongolia, Northern China and Siberia. Taiga of Yakutia is almost entirely larch Larix gmelini, so in October it is just one golden ocean the size of the Eastern USA. This beauty only exists for a week or two, just before the fist major snowfall.
Larch L. occidentalis,
Oregon, USA

Larch forest, Zeya River, Russia

Larch L. gmelini olgensis,
Northern Ussuriland.


Larch forest, Lena River, Yakutia

Tamarack forest,
Churchill, Canada.
The most widespread larch of North America, tamarack (L. laricina), seldom attains bright color before shedding its leaves. In some areas, however, it can produce nice displays of brilliant yellow, standing out of dull-gray Canadian taiga. In the Northern Rocky Mountains, Western larch (L. occidentalis) is sometimes very beautiful in late fall, but it seldom grows in large pure stands. Rare and local subalpine larch (L. lyallii) briefly turns yellow in early September, but then stays bare for 8-9 months - so long are winters in its timberline habitat.

Subalpine larch,
Mt. Baker, Washington.
| | |
| --- | --- |
| Pine forest with Rocky Mountains maples, Tajique Canyon, New Mexico. | Greene mountain-ash (Sorbus scopulina), Utah. |
| | | |
| --- | --- | --- |
| Wrangell Mountains, Alaska. | The unearthly splendour of fall colors in Alaska is mostly created by quaking aspen and its relative, balsam poplar (P. balsamifera). Other species of trees and bushes add their own colors to this beautiful display, usially at its best by early September. Driving a highway loop Anchorige-Fairbanks-Valdez-Anchorage is a good way to see the best of Alaskan fall colors in one weekend. | Alaska Range, Alaska. |
Leaves of Alaskan trees:
0-Larix laricina,
1-Populus balsamifera,
2-P. tremuloides,
3-Salix alaxensis,
4-S. arbusculoides,
5-Betula papyrifera,
6-Alnus tenuifolia,
7-Sorbus scopulina,
8-Amelanchier alnifolia,
9-Cornus stolonifera.
| | |
| --- | --- |
| Taiga of Tanana Valley, Alaska. | View of Delta Valley, Alaska. |

Tamaracks, Trans-Labrador Highway.
A less-known place to see taiga in the fall is Trans-Labrador Highway in Canada. You can drive from red maples to larches to paper birches at Lake Melville in one day - better in early October.

Tamaracks, Trans-Labrador Highway.

Tamaracks, Trans-Labrador Highway.
| | | |
| --- | --- | --- |
| Bering Strait, Chukotka. | North from the boreal forests, Arctic tundras have their own fall colors. Dwarf birch, various berries and other tiny bushes turn red, yellow, brown, and purple in August or September. The display is usually over by October, when snow covers the land for eight months. | Timberline, Polar Urals. |

Taiga lakes,
Karelia, Russia.

Timberline,
Jack London Lake, Siberia.

Taiga bog,
Hamar-Daban Range, Siberia.

Alpine tundra,
Subpolar Urals, Russia.
| | | |
| --- | --- | --- |
| Tundra vegetation, Yakutia. | Fall colors usually appear earlier in inland and mountain tundras of Siberia, Alaska and Canada, and later in coastal areas, such as Lapland, Chukotka and Iceland. Late September is the best time for Northern Scandinavia. | Laplandian tundra at Russian-Norvegian border. |
| | |
| --- | --- |
| Rocky Mountains timberline in October, Utah. | Rocky Mountains timberline and tundras in October, Utah. |

Denali National Park, Alaska.
In the Alaskan Interior, early September is the best time for fall colors in both mountain tundras and taiga forests. Denali Nat'l Park is one of the most accessible and popular timberline areas.

Denali National Park, Alaska.

Denali National Park, Alaska.
| | | |
| --- | --- | --- |
| Delta Bison Range, Alaska. | Finding solitude outside Denali can also be difficult, because early September is the hunting season. Weather is unpredictable at this time of year, especially in coastal areas. | Denali Highway, Alaska. |

Tanana Valley, Alaska.
Some of the less visited, but accessible in an ordinary car, protected areas of Alaska are Wrangell-Saint Elias National Park and taiga forests along the Canadian border.


| | |
| --- | --- |
| Copper Valley, Alaska. | Tanana Valley, Alaska. |


Wrangell Mts, Alaska.
| | |
| --- | --- |
| Denali National Park, Alaska. | Denali State Park, Alaska. |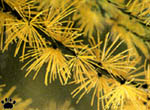 Tamarack needles, Labrador.
Part 4. Beyond the tree leaves
Back to Part 2