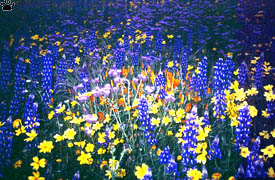 Spring flowers of 2003 near Gorman.
Part 3. Southern California
East from the Sierra, Great Basin desert enters California in Mono Lake area. It's the world of sagebrush flats, dry mountains, and abandoned mining towns.

Sunset, Mono Lake

Bodie ghost town,
Mono Lake area.

Black-tailed jackrabbit,
Mono Lake

Sunrise, Mono Lake.

Black Smoker-like formations
around geothermal vents, Mono Lake
Mono Lake itself is a huge volcanic caldera, surrounded by cinder cones, lava flows, and weird rock formations. In summer and fall, its saline waters turn into a crustacean soup, attracting hundreds of thousands of gulls, grebes, and phalaropes.

World's oldest trees - pines
Pinus longaeva, Inyo Nat. Forest

Dry bottom of Death
Valley.

| | |
| --- | --- |
| Sagebrush, Death Valley. | Sand Dunes, Death Valley. |

From Telescope Peak, you can see Mount Whitney and Death Valley, the lowest point of the continent, at the same time.


Mosaic Canyon, Death
Valley.

Spring flowers in Death Valley.

Titus Canyon,
Death Valley.

Mozaic Canyon,
Death Valley.

Death Valley from Dante's View.

View of the eastern escarpment
from the bottom of Death Valley.
Death Valley is the largest National park in California. Its centerpiece is a deep rift valley, the world of dry desert lakes and spectacular canyons. In addition to being a geologist's paradise, it contains some unique flora and fauna, even endemic fishes in tiny salt springs.

Artist's Palette,
Death Valley.
Joshua tree(Yucca brevifolia), World's largest yucca, forms large forests in desert mountains of Southern California.

Hooded oriole
(Icterus cucullatus),
Colorado Desert.
Southern California is mostly occupied by Mojave desert. It is famous for rare, but spectacular wildflower displays, and for weird forests of cacti and yuccas in desert mountains. Fall colors are also beautiful here, but nobody pays any attention to them. Mountain ranges to the southwest, from Los Angeles area to the Mexican border, are famous for fantastic views and highly diverse flora. Southwestern corner of California also has more species of bats and reptiles than other parts of the state.

Gambell's quail
(Callipepla gambelii),
Mojave Desert.

Teddybear cholla (Opuntia
bigelovii), Joshua Tree Nat. Park


Sunset in Joshua tree forest,
Joshua Tree National Park


Joshua Tree (Yucca
brevifolia) and view of
San Jasinto Mountains,
Joshua Tree Nat. Park

California poppy
(Escholtzia californica), California Poppy
Preserve, Mojave.

In San Jasinto Mountains, you can ski within a mile from hot desert.


Snake cholla (O. serpentina),
Joshua Tree Nat. Park


Poorwill (Phalaenoptilus
nuttallii), Joshua Tree Nat. Park
Common cacti of Southern California, left to right: claret cup cactus (Echinocereus triglochidiatus), devil cholla (Opuntia parishii), beavertail cactus (O. basilaris). Guadalupe Canyon.

Fall colors in Sierra foothills
near Lone Pine.
What makes the desert mountains of Southern California so interesting is the unusual habitat diversity. Each slope is influenced by elevation, sun, winter rain, and coastal fog in its own way. As a result, San Bernandino National Forest near Los Angeles has more species of flowering plants than any other forest in the United States.

California brittlebrush (Encelia
californica), San Bernardino Mts.

Ocotillo (Foucuieria
splendens),Anza-Borrego

Granite spiny lizard (Scleroporus orcutti),
male in breeding colors,
Santa Rosa Plateau Ecological Preserve.

Coulter's pine (Pinus coulteri) has the
heaviest cones of all conifers in the World.
Mount Palomar State Park.

Chaparral yucca (Y.
whippleyi), Mojave.

Oasis with California Fan Palms
(Washingtonia filifera),
Coachella Valley Preserve.
Valleys and mountains within at least 100 miles of Los Angeles are heavily influenced by its smog and hordes of weekend tourists, but there are still many little-known and relatively pristine places in this area.


California quail (Calipepla californica), Los Padres National Forest.


Granary (collective cash of acorns)
made by a family of acorn woodpeckers
(Melanerpes formicivorus), Mt. Pinos.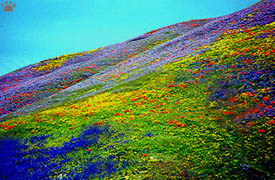 Spring flowers of 2003 near Gorman.
Part 4: The Central Valley.
Back to Part 2