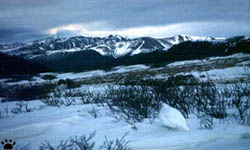 White-tailed ptarmigan (Lagopus leucurus), Yosemite Nat'l Park.

Part 2. Sierra Nevada

Sierra Nevada forms the natural eastern border of California. Its foothills are covered with oak woodlands, and mid-elevations - with dense forests of giant pines, firs and sequoias.

Giant Sequoias
(Sequoiadendron giganteum),
Sequoia National Park

Spring in the foothills,
Indian Grinding Rock
State Park

Road in pine-fir forest,
Kings Canyon
National park

Sequoia (Sequoiadendron
giganteum), Calaveras
Big Trees State Park

Oak-pine forest zone,
Sequoia National Park.

Higher up, there are forests of stunted pines and beautiful alpine meadows.

| | |
| --- | --- |
| Pine-fir forest zone, Lake Tahoe. | Timberline, Alpine Wilderness. |


Fir forest zone,
Sequoia National Park.

June, Yosemite.

April, Kings Canyon.

August, Yosemite.
Yosemite Valley is the most popular place in the Sierra because of its waterfalls.

September, June Lake.

July, Yosemite.

October, Yosemite.

Morning, Kings Canyon.

December, Sequoia.

April, Yosemite.

August, Yosemite.

May, Yosemite.

May, Kings Canyon.
In May, dogwoods and other plants bloom at mid-elevations; waterfalls are at their best.


May, Yosemite.

May, Yosemite.

May, Sequoya.
| | | |
| --- | --- | --- |
| High Sierra near Mount Whitney | Tuolumne Meadows in Yosemite are officially claimed to be the World's largest Alpine meadow. That's far from truth: in Asia, there are Alpine meadows as large as Yosemite National Park itself. Most of the Sierra above timberline is bare rock due to dry summers, although some tiny plants make it to the summit of Mt. Whitney (4,320m/14,494'), the highest peak between Canada and Mexico. The summit is snow-free by August, also due to dry summer. Inyo Valley just east from Mt. Whitney is the deepest in North America. | View of Inyo Valley from the Sierra |

Sea of glacier-polished rocks-
High Sierra in Yosemite

Lake Tahoe from
Mount Rose.

River in Calaveras
State Park.

Sunrise view of Hitchcock Lake
from the summit of Mount Whitney

Canadian otters
(Lontra canadensis),
Lassen National Forest.

Because of recent glaciation, only few animals, such as Alpine chipmunk (Tamias alpinus), some amphibians and golden trout, are endemic to the Sierra. Others are widespread in California, or even throughout North America.


Golden trout (Salmo
aquabonita), Kern River.

Spring poppies in the
foothills, Merced River.


Black-tailed jackrabbit
(Lepus californicus),
Plumas National Forest.

Western azalea (Rhododendron
occidentale), Volcano Creek.

Snowplant (Sarcodes sanguinea),
Troy Meadows.

Western dogwood (Cornis nuttallii),
Sequoya Nat. Monument.

Unidentified plant of Asteraceae family,
Plumas-Eureka State Park.

There are, however, hundreds of endemic plants, and new species are being described in the Sierra (as well as in other parts of California) every year. Southern part of the range has much more endemics than the rest of it.


The only existing grove of Piute cypress
(Cupressus arizonica nevadensis), Piute Mts.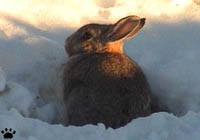 Desert cottontail (Sylvilagus audubonii), Mammoth Mt., California.
Part 3: Southern California
Back to Part 1