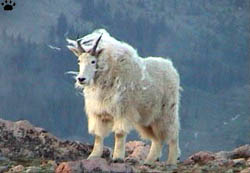 Mountain goat (Oreamnos americanus), Mt. Reinier, Washington.


Part 17. The Pacific Northwest

If you head south from Great Basin, you'll find yourself in subtropical deserts, but if you go northwest, prepare for the rain. The Cascade Mountains are the border between dry inland America and the Pacific Rim. Here you quickly learn to appreciate each day of good weather as a personal gift from Nature. The highest mountains of the Cascades are all volcanoes, and some of them have erupted in the historic time.
Sunset at Mt. Hood, Oregon.

Thunderstorm on Mt.
Reinier, Washington.
I hope to see at least one good eruption if I live in the West
long enough. While waiting, I spent some time exploring lava tubes, obsidian flows, hot lakes and other legacy of past eruptions.

Views of Mt. Saint
Helens, Washington.
Volcanoes of the Cascades, left to right: Reinier, St. Helens, Shasta.

View from Wind River Canopy Crane, Washington.

October in Deschutes National Forest, Washington.

The Cascades are covered with dense forests of fir, spruce, hemlock (Tsuga), and other conifers. Although most oldgrowth forests have (and are) being logged, some stands are still very impressive.

View from Wind River Canopy Crane, Washington.
| | | |
| --- | --- | --- |
| Glacier Highway, British Columbia. | The two most scenic roads in the Cascades are North Cascades Highway in the US, and little-travelled Glacier Highway in Canada - an excellent place to see bears and totem poles. | North Cascades Highway, Washington. |

Totem pole, Gitaniow,
British Columbia.

Totem poles, Gitaniow,
British Columbia.

Totem pole, Teslin,
Yukon.

Totem pole, Haynes,
Alaska.

Totem pole, Klukwan,
Alaska.
| | | |
| --- | --- | --- |
| Gifford Pinchot Nat'l Forest, Washington. | The westernmost part of the West is also one of the most beautiful and unusual. Coastal forests of northwestern US and British Columbia look so magical that you can enjoy them even in rain. So, it rains all the time here. | Beaver hut, Gifford Pinchot NF. |
Swift Lake, Washington.

World's largest spruce
tree - Sitka spruce (Picea
sitchensis), Olympic
Nat. Park, Washington.
The best rainforests can be seen in Olympic National Park, Washington, and on Vancouver Island, British Columbia. Conifers reach even greater size and diversity here than in the Cascades.

Noble fir (Abies
procera) and
my car, Cougar,
Washington.
Spruces, firs, Douglas-firs, hemlocks and redcedars all grow taller than 80m/270'. Their size and beauty is surpassed only by redwoods of Northern California - the most beautiful forests in the World.

Cathedral grove, forest of
90m/300' tall Douglas-firs
(Pseudotsuga menziesii),
Vancouver I, Canada.

Hoh Rainforest, Olympic Nat. Park, Washington.

Author with giant redcedar
(Tuija plicata),
Olympic Nat. Park.
This log is colonized by many
species of algae, fungae, lichens
and myxomicetes. Olympic N.P.

Rare view of Hoh Rainforest in sunny weather.

Hen of the woods,
Coastal Oregon.
These moist forests offer some of the best mushroom hunting anywhere outside the tropics. Although you can't expect to collect a winter's supply of edible mushrooms in one day, which is possible in some parts of boreal taiga, the diversity of mushrooms is spectacular. Some reach record dimensions. Hen of the woods (Grifola frondosa, left) is edible and very tasty, but we left the one shown here in the forest, because this mega-mushroom is rare and takes a long time to mature. This king boletus (Boletus edulus, right) was delicious.

King Boletus,
Coastal California.

Subalpine fir (Abies lasiocarpa),
Hurricane Ridge, Olympic Nat. Park, Washington.

Mountain hemlocks (T. merten-
siana), Mt. Baker, Washington.

Pacific silver fir (A. amabilis),
Hurricane Ridge, Olympic Nat. Park, Washington.

Mountain
bluebird
(Sialia
currucoides),
Mt. Baker,
Washington.
And then, there is the splendid Pacific coast with its countless islands, fjords, channel labyrinths, salmon runs, bears, seabird colonies, kelp forests, tidal pools, shell-paved beaches, eelgrass beds, seals, whales, giant octopuses and other wonders. Major cities in the area hide away from the ocean, deep into sounds or upstream large rivers, so the outer shores are almost pristine, particularly in Canada. You can follow the coast north, to glaciers of Alaska, or south, to blooming meadows of California. Either way, you will not be disappointed.

Lewis'
woodpecker
(Melanerpes
lewisi),
Mt. Baker,
Washington.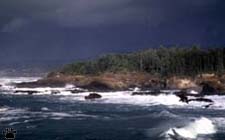 Boiler Bay, Oregon.


Part 18. Squirrels
Back to Part 16