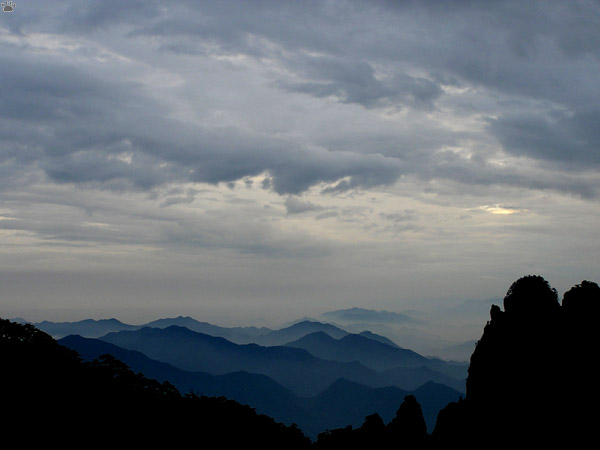 View from Mt. Huangshan, Anhoi.

Part 3. Huangshan

Huangshan is the most beautiful sacred mountain in Eastern China. It also has the worst name - "Yellow mountain" is not yellow at all. Most of time it is green or blue, wrapped in fog and clouds.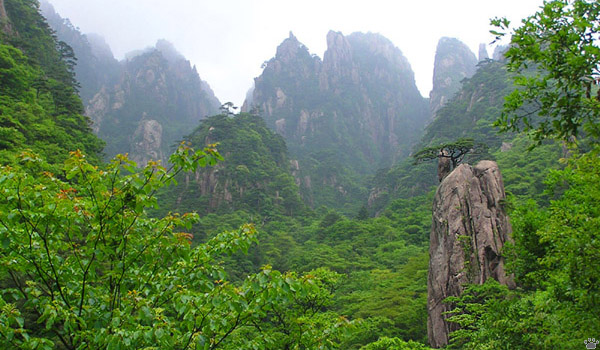 Mt. Huangshan.
| | | |
| --- | --- | --- |
| Huangshan. | Like many sacred mountains, Huangshan has a wonderful combination of dense old-growth forests and dramatic rock formations. For more than 2,000 years it has been a source of inspiration for Chinese artists and poets. | Huangshan. |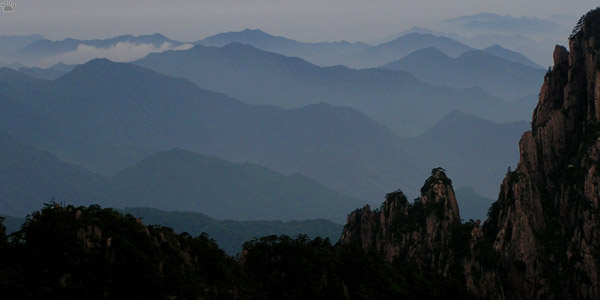 View from Mt. Huangshan.
| | | |
| --- | --- | --- |
| Huangshan. | Some rocky peaks are razor-sharp, others resemble opening lotus flowers. They are all granite, so climbing them is relatively safe, even if you have to walk up an almost vertical wall. With more than 200 peaks, it's an undiscovered rock climber's paradise. | Summit of Mt. Huangshan. |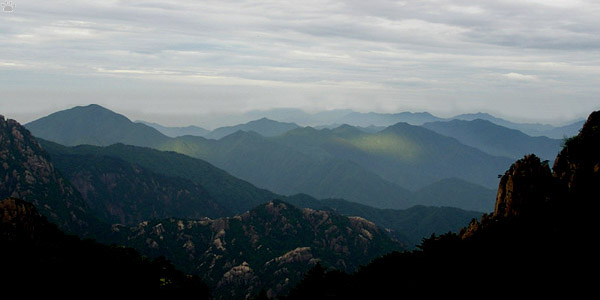 View from Mt. Huangshan.
| | | |
| --- | --- | --- |
| Trail up Huangshan. | Climbing Huangshan is easy. It is only 1873 m/6650' high. If you use forest trails around the entrance offices, and then walk up the steps, it takes just 3-4 hours. Or, you can pay for the entrance ticket/foreigner insurance and take a cable car - that's about $30. | Typical Huangshan weather. |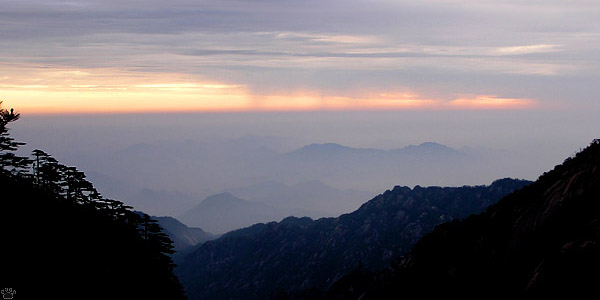 View from Mt. Huangshan.
| | | |
| --- | --- | --- |
| Huangshan. | Three trails and three cable cars go to the summit plateau; one of these cable cars is the longest in Asia. The plateau itself has a dense trail network, but on the slopes there is plenty of canyons and slopes where people almost never show up. | Huangshan. |
| | |
| --- | --- |
| Taiwanese pine (Pinus taiwanensis) and Chinese hemlock (Tsuga chinensis). | Forest on Huangshan. |

Giant torreya (Torreya grandis),
Huangshan.

Chinese douglas-fir (Pseudotsuga
gaussenii), Huangshan.
Forests of Huangshan shelter many ancient species of trees, some of them very rare. Look for giant ginkgos, torreyas, hemlocks and magnolias.

Ginkgo (Ginkgo biloba),
Huangshan.

Magnolia (Magnolia sp.),
Huangshan.
| | |
| --- | --- |
| Rhododendrons (Rhododendron smithii), Huangshan. | Unidentified orchid, Huangshan. |

Red-billed blue magpie (Urocissa
erythrorhyncha), Huangshan.
There is a lot of wildlife on the mountain, but you have to get away from paved trails to see the most interesting creatures: musk and muntjac deer, serows, Himalayan bears, Bengal cats, Elliot's and koklass pheasants. It's a good place for birdwatching, especially at lower elevations.

Rusty laughingthrush (Garrulax
poecilorhynchus), Huangshan.


Red-billed blue magpies, Huangshan.

Crimson-breasted
woodpecker
(Picoides cathpharius).

Greater necklaced laughingthrush
(G. pectoralis), Huangshan.
The best time to visit Huangshan is probably in October. I've only been there in summer, but it was also very interesting.

Greater necklaced laughingthrush,
Huangshan.

Koklass (Purchasia
macrolopha),
Huangshan.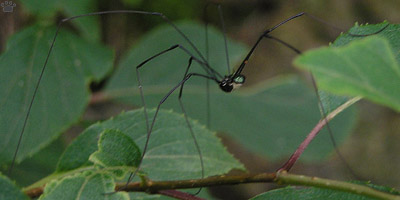 Emerald harvestman, Huangshan.
Part 4: Wuyishan

Back to Part 2