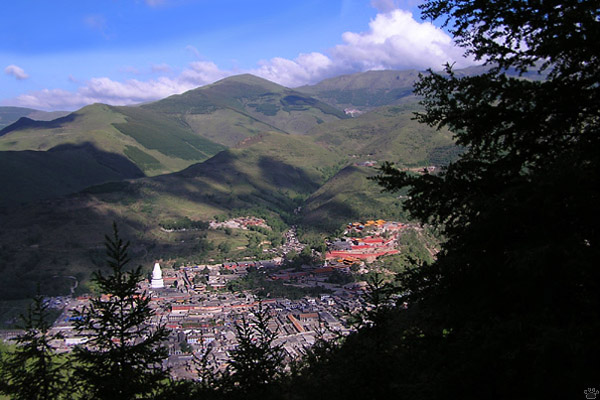 Wutaishan, Shanxi.

Part 2. Sacred Mountains

China has at least thirty sacred mountains.


| | |
| --- | --- |
| Mt. Wutaishan, Shanxi. | Mt. Huashan, Shaanxi, 1993. |
| | | |
| --- | --- | --- |
| Muztagata (7546 m) in Chinese Pamir, Xinjiang. | The highest one is Chomolama (Mt. Everest) on Tibet/Nepal border; the most famous - Kailash in Tibet and Taishan in Shandong. | Kongur (7719 m) in Chinese Pamir, Xinjiang. |
Changbeishan (Paektu-san in Korean), 1993. Once a remote and wild place, it is now a major tourist attraction

Paektu-san is particularly sacred to Koreans. Kim Chong Il claimed to
have been born here (in truth, he was born in Khabarovsk, Russia) . 1993.
One of the sacred mountains, Changbeishan (2741 m) in Jilin on the border with North Korea, is a dormant volcano with a beautiful crater lake.

Sungari, the largest tributary of Amur River, flows out of the crater lake
through the canyon visible on the photo. 1993.
| | |
| --- | --- |
| Chinese dogwood (Cornis chinensis), Lushan, Jiangxi. | Chinese tulip tree (Liriodendron chinensis), Lushan, Jiangxi. |
| | | |
| --- | --- | --- |
| Lushan. | Some are so revered that they can be considered the world's oldest Nature reserves, with no logging or hunting for thousands of years. Others have been completely deforested or overgrazed. Many are now being overrun by hotel construction and hordes of tourists. | Lushan. |
Rhododendrons, Lushan.
| | | |
| --- | --- | --- |
| Rhododendrons, Lushan. | In many parts of the country sacred mountains are the only surviving islands of natural landscapes, surrounded by hundreds of miles of cities and fields. Some shelter an impressive variety of flora and fauna, as well as many old temples and monasteries. | Rhododendrons, Lushan. |
Rhododendrons, Lushan.

Buddhist nuns on a pilgrimage, Wutaishan. Some pilgrims
walk for weeks before even reaching the mountain.

Buddhist nun on a pilgrimage, Wutaishan. Old pilgrims often have to climb thousands of vertical stairs to get to the summit. Many die.

Buddhist nun on a pilgrimage, Wutaishan.

Pilgrim, Wutaishan. His forehead is bleeding from hitting
every step along the climb.

Porter girl climbing up Huanglong Valley,
Sichuan.


Porters, Huangshan, Anhoi.

On many sacred mountains, food and construction materials for monasteries, hotels and restaurants are still delivered by porters. In each place they use a different technique to haul their loads - usually about 70 kg per person - up the steep stairs, sometimes with 2-3 thousand meters of elevation gain. In addition to supplying the goods, they carry rich tourists, or provide emergency evacuation for people who get sick, break their legs or die on the trails. New roads and cable cars slowly put them out of business.


Porter's granddaughter, Emeishan,
Sichuan.
Yellow-bellied Tit (Parus venustulus, the photos in the middle) and coal tit (P. ater), Emeishan.

Unidentified plant, Lushan.
In the following pages are some photos from three of my favorite sacred mountains.

Wutaishan, Shaanxi.

Arisaema sp., Lushan.
Part 3: Huangshan

Back to Part 1