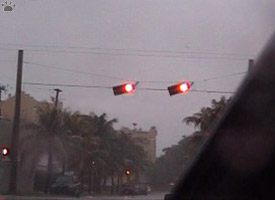 Katrina passing over Coral Gables, Florida.
Part Two. Katrina, Rita & Wilma
In August 2005, I moved to Florida just in time to watch hurricanes Katrina, Rita and Wilma. Katrina passed directly over my house, then I followed her to Louisiana where she was much more impressive.


As Katrina passed over Florida, street traffic didn't completely stop
even when the winds reached 130 km/h (80 mph). Fort Lauderdale.

I tried surfing during Katrina, and found that even in a hurricane
Florida surf wasn't nearly as good as in California. Ft. Lauderdale.

For a while, it was raining
inside my apartment, too.
But the precipitation was
localized and not destructive.
When Katrina was crossing the peninsular Florida, she was still a Category 1 hurricane. She had a tiny, poorly-developed "eye". It could be actually observed as a whole from the ground, which is very unusual.

"Eye" of Katrina over Key Biscayne, Florida.

Coconut palms are adapted
to life on small tropical
islands, so they can be
amazingly wind-resistant.
| | | |
| --- | --- | --- |
| Streets covered with broken trees, Coral Gables. | She dumped 50 cm (20 inches) of rain in places. There was a lot of broken trees and power outages, but flooding was limited, very few buildings sustained any structural damage, and only 9 people were killed. | A yacht blown out of the water, Virginia Key, Florida. |
| | |
| --- | --- |
| One-way street, Key Biscayne, Florida. | "No lifeguard on duty", Key Biscayne. |

White ibis (Eudocimus albus) in a street,
Coral Gables.
Local wildlife suffered a lot from the storm, but some seemed to benefit. White ibises were feeding in flooded streets, shorebirds were busy sifting through tons of garbage on beaches, gnats started to breed in pools.


Ruddy turnstone (Arenaria interpres),
Key Biscayne.

Katrina had no visible "eye" at all until just before her first lanfall in
Florida on August 19. Satellite image courtesy NOAA.

She developed a perfectly structured "eye" by the time of her second
landfall on the morning of August 29. Satellite image courtesy NOAA.

When the winds reach 220 km/h, it becomes difficult
for a car to drive into the wind, and it's dangerous
to turn away. Flat Parish, Louisiana
By the time Katrina reached Louisiana, she was Category 5, with winds up to 280 km/h (175 mph), although they began to decrease fast during landfall. She was a very different storm now.


It is impossible to walk if the wind is over 100
km/h. At 200 km/h grains of sand pierce yor skin;
at 250 km/h a pebble can kill you. Flat Parish.
| | |
| --- | --- |
| Three days after Katrina, Key Biscane. | Wind gust during Katrina's landfall, Flat Parish. |

A house drifting into the Gulf of Mexico,
Gulfport, Mississippi.
As soon as the winds subsided, I had to drive back to Florida to avoid being trapped by rising waters. Katrina's storm surge eventually flooded a huge chunk of the Gulf Coast, killing hundreds of people and causing more damage than any natural disaster in US history.


Flood waters kept rising long after the "eye"
had passed. Mobile, Alabama.
Much of the damage occured in New Orleans, where dykes broke and the sea rushed into the city. This was not unexpected. The city is located below sea level, protected by a complicated system of dykes and pumps, and surrounded on all sides by water. For decades, it has been obvious that it would be devastated by any strong hurricane to pass through. After a few close calls, the inevitable happened. Why was the city allowed to continue its growth, why there was no resettlement program before the disaster, why did everybody start talking about rebuilding New Orleans in the same doomed place as soon as the storm had passed? Don't ask me.


The eye of Rita (composition of 8 videoframes). This and some of the following images have been edited/enhanced in Adobe Photoshop. Similar, but better photos from other hurricanes and typhoons can be found at http://www.hurricanehunters.com

Our flight through Rita. Background
satellite image courtesy NOAA.
Before the floodwaters of Katrina could dry out, Rita came by. She squeezed between Florida and Cuba without doing much damage, gave me a free car wash, then swelled to category 5 on her way across the Gulf of Mexico. I was lucky to get onboard a research flight to the eye of Rita just when she was in her prime, with 440 km/h (275 mph) winds.


Rita on airplane radar screen.
Doesn't look scary at all.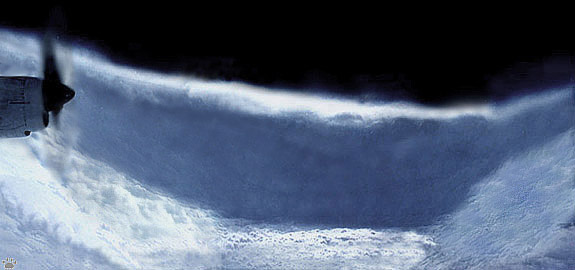 The eye of Rita. Hurricane hunters call this "the stadium" - a flat area with relatively calm winds inside the eye. The eye itself can be from a few to hundreds miles in diameter. Composition of 12 videoframes, edited in Adobe Photoshop.
Flying through a hurricane can be somewhat boringe unless it has a well-developed eye and you get inside it. Elsewhere the visibility is poor or zero, so you have nothing to do but watch the gages dance and chew on your motion sickness pills. The really scary part is penetrating the eyewall: the turbulence gets so wild that the airplane flaps its wings like a crow.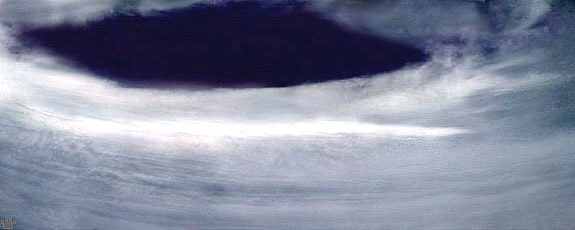 Looking up from inside the eye (composition of 12 videoframes, edited in Adobe Photoshop).
After our little encounter, Rita moved to Texas coast. Millions of local residents, scared by TV reports on Katrina, bolted into evacuation. Many had to spend a full day on jammed freeways. More than thirty people died, most of them in traffic accidents. Of course, New Orleans got re-flooded, even though it was well away from Rita's path.


Close-up of the eyewall (composition of 12 videoframes, edited in Adobe Photoshop).

Wilma over Florida. My home marked by a red
dot. Satellite image courtesy NOAA.
A few weeks later, Wilma moved over Florida as a very fast-moving Category 2 hurricane. It was ideal for storm watching: there was almost no rain, and great visibility. From a highrise roof, you could see black cloud bands fly overhead in a great spiral at frightening speed.


The first cloud bands of Wlma moving over at
dawn. Coral Gables, Florida.
Hurricane-force winds can turn unexpected objects into deadly missiles. Coral Gables.

Wilma passing over Coral Gables. Native trees are mostly
adapted to hurricanes, but many exotic species suffered a lot
of wind damage, especially figs and eucalipts.
Wilma arrived to our town at dawn, and managed to inflict a lot of damage in less than six hours.


A tree smashed three cars in our parking lot. I expected it to
fall, and parked far from it (my car's on the left), but other
people were not so lucky. Coral Gables.
Wilma over Miami, Florida.
| | | |
| --- | --- | --- |
| Wilma at Key Biscane, Florida. | There was storm surge and flooding in Mexico, Cuba, and the Florida Keys, but not in our area. | Wilma at Key Biscane, Florida. |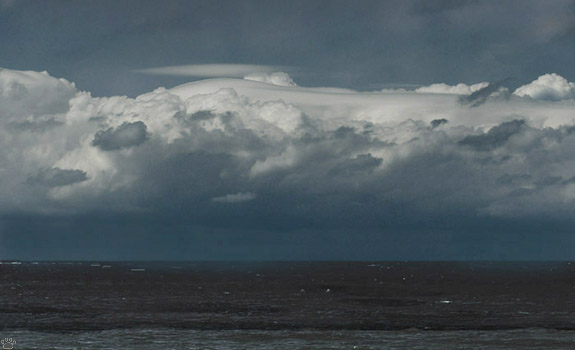 Wilma had a large, but poorly-defined eye. I had to drive for about fifty miles to get into it. This is a view of the eyewall from inside the eye. Note how calm the sea is: there's almost no wind in the center of a hurricane. Boca Raton, Florida

The storm was completely over by the afternoon.
At sunset, only the distant cloudtops could be
seen at the NE horizon. Miami.
Ten people were killed by Wilma in Florida. Local wildlife survived the storm surprisingly well, but large numbers of migrant birds were blown off into the ocean. Hundreds of them showed up on Bermuda a day later. Some cattle and house pets also died.


Sandhill cranes (Grus canadensis) calmly
feeding in the middle of the storm. Seabirds
also remained active. Key Biscane.
Many cars were damaged by collapsing parking structures. It actually proved safer to park in the open. Coral Gables.
| | | |
| --- | --- | --- |
| Wilma damage at Key Biscane, Florida. | Overall, there was relatively little damage from this hurricane in Florida. | Wilma damage at Key Biscane, Florida. |
Only a few houses, such as this mobile home in Boca Raton, were destroyed by the hurricane. As always, the poorest people suffered the most.
| | | |
| --- | --- | --- |
| Street in Coral Gables. | Power lines were severely damaged: seven million people were left without electricity. | Downed power lines, Boca Raton. |
As for the rich, their losses were mostly limited to a few smashed yachts and private planes, all of them insured.
| | | |
| --- | --- | --- |
| Black vulture (Coragyps atratus), Lake Okeechobee, Florida. | The storm coinsided with the fall migration of vultures. Thousands of them remained in the area for many days, feeding on carrion and garbage. | Turkey vulture (Cathartes aura), Lake Okeechobee, Florida. |

Hummocks (tropical hardwood forests) suffered much more than
pine forests, palm groves, cypress domes and mangroves.
Gumbo Limbo Environmental Center, Florida.

This small restaurantacross the street from my home remained open
through all hurricanes of 2005, and the food was always good.
Coral Gables, Florida.
| | | |
| --- | --- | --- |
| Forest damage after Wilma, Everglades NP. | One thing I decided for myself is that I'm never going to evacuate from a hurricane's path. Watching them is a wonderful experience, well worth the risk - at least if you are interested in such things and reasonably healthy. But I am also going to buy a gun. It helps to be ready. | Forest damage after Wilma, Everglades NP. |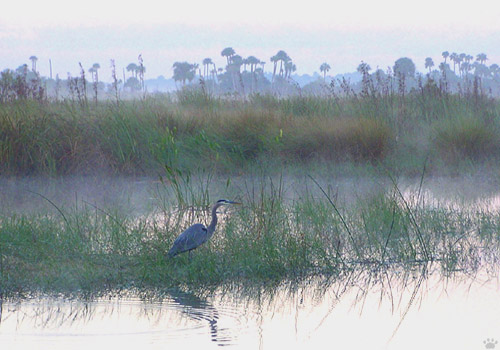 Hurricane Wilma was immediately followed by a cold front. It brought unseasonably cool weather, clear skies, and morning fog.
Lake Okeechobee, Florida.Home