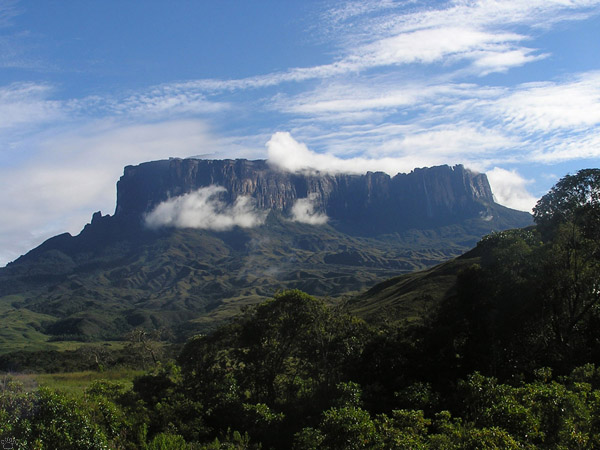 Cerro Roraima.
Climbing Mount Roraima
Mount Roraima (2,810 m/9,219 feet) is the highest of tepuis, sandstone mesas (table mountains) scattered across the Guyana Highlands of northeastern South America. This impressive geological formation, one of the world's oldest, is shared by Venezuela, Guyana and Brazil. The reports of early explorers inspired Sir Arthur Conan Doyle's The Lost World, probably the best adventure novel of all times. When the mountain was finally climbed (in 1884), its summit plateau was found to be inhabited by numerous endemic plants and animals. It is one of the most unusual places on Earth, and every naturalist should visit it in his lifetime.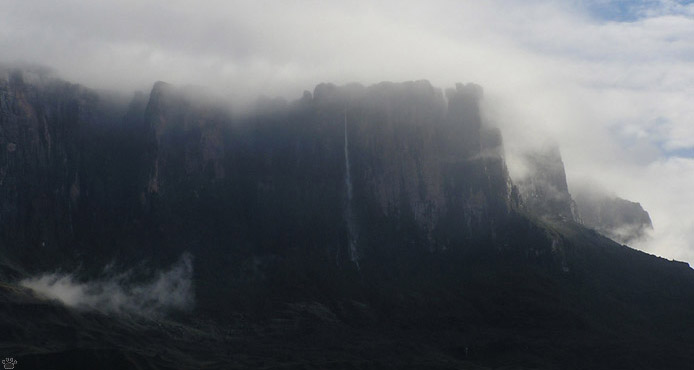 A more typical view during the rainy season.

El Foso (The Prow), the northern tip of Roraima, as seen from Guyana.
Lago Gladys is visible near the top of the nearest waterfall.
The plateau is 84 sq. km (33 sq. miles) in size. The largest of its 52 lakes is named after Lake Gladys, the plesiosaur habitat in The Lost World.

The mountain is so massive that it creates its own weather. It is
unusual to see it completely cloud-free.
Sunrise below Mt. Roraima.

The summit plateau is a cold, wet, windy place, almost always wrapped
in dense fog.
In the novel, the explorers reach the plateau by climbing a rocky outcrop and felling a tree to make a bridge. In reality, the gap between the outcrop and the plateau (photos above) is way too wide, and there are no tall trees anywhere near the summit.

Slopes of Mount Roraima. It was believed to be completely
inaccessible, until one of research expeditions found the access route.
Sunset below Mt. Roraima.
| | | |
| --- | --- | --- |
| Roraima waterfalls. | The only non-technical access route is called La Rampa (The Ramp). It isn't particularly difficult, although some places are very slippery and almost vertical. You can also expect to be soaked by a few of Roraima's 56 large waterfalls. | Trail along La Rampa. |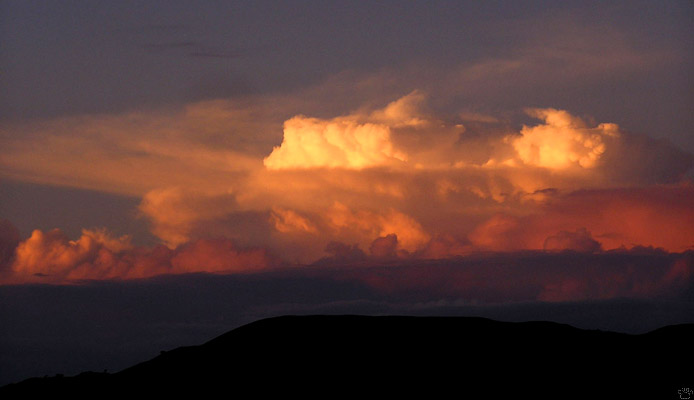 Thunderstorm near Mt. Roraima.
| | | |
| --- | --- | --- |
| Rain gathering over Roraima. | Almost all visitors take a 5-day organized tour. Tour companies provide sleeping bags, rain gear, guides and porters to carry food. | Roraima morning. |
Guides, porters and tourists, Mt. Roraima. On the summit, tour groups camp in dry, level places under rock overhangs - the so-called "hotels".

The guides and porters are mostly local Pemon Indians - very nice and
friendly people.
To explore the remote northern part of the plateau, it's better to go alone... if you don't mind the extra weight and the risk.

A "hotel" on the summit plateau. Some of these "hotels" have really great
views (weather permitting).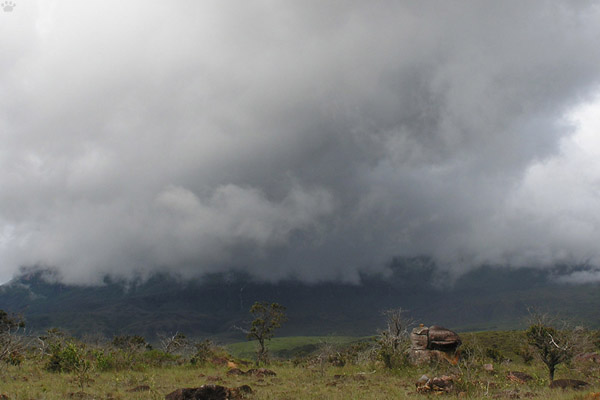 Typical view of Mt. Roraima.
Home