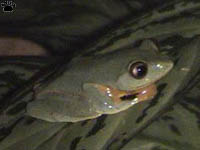 Flying frog (Rhacophorus dulitensis), Sungai Kinabatangan.

Rainy season in Malaysia - Part 2


All arboreal snakes are beautiful, but Trimeresurus pit vipers are among the best. Left to right: T. albolabris, Danum Valley; T. trigonocephalus, Sepilok (3 images); T. borneensis, Danum Valley.

Oxbow lake,
Kinabatangan River.
Lower Kinabatangan River in Sabah is a great place to see seasonally flooded forest of the type known as varzea in the Amazon. This is one of very few large rivers in tropical Asia where riparian forests still exist. During the rainy season, the best way to explore the forests, small streams, and oxbow lakes here is by swimming or by a small rowboat. Commercial motorboat rides are much more popular here, but usually less interesting.

Flooded forest,
Kinabatangan River.
Birds of Kinabatangan River, left to right: Cyornis superbus, Malacocincla malaccensis, Ciconia stormii, Stachyris nigricollis, Alcedo meninting.
Most of Malaysia's eleven hornbill species can be seen along the Kinabatangan River.
Oriental pied hornbills (Anthracoceros albirostris), Kinabatangan River.
Oriental pied and wrinkled (Aceros corrugatus) hornbills, Kinabatangan River.
Rhinoceros hornbill (Buceros rhinoceros), Kinabatangan River.
Male bearded pig, Kinabatangan River.
Female bearded pig, Kinabatangan River.

Bearded pig (Sus barbatus),
the most common large
herbivore of lowland forest.
Kinabatangan River.


Buffy fish-owl (Ketupa
ketupu), Kinabatangan.
At night, riverside forests are full of interesting animals, but getting close to them isn't easy.

Buffy fish-owl (Ketupa
ketupu), Kinabatangan.


Malay civet (Viverra tangalunga),
Kinabatangan River.

Banded palm civet (Hemiglaus
derbianus), Kinabatangan River.


Banded civet (Hemiglaus
derbianus) is not very rare,
but it is difficult to film.
Kinabatangan R.

Combs of giant honeybee
(Apis dorsata),
Kinabatangan River.
The world of tropical invertebrates is absolutely fascinating. Walking through the forest, you normally see something beautiful and/or interesting every few minutes, sometimes even more often. In Kinabatangan's riparian forests, millipedes and centipedes were particularly spectacular. 148 Kb .wmv video

Combs of giant honeybee
(Apis dorsata),
Kinabatangan River.
Centipedes and a millipede (right), Kinabatangan River.
Orangutans (Pongo pygmaeus), Kinabatangan River.
Orangutan nest, Danum.
Orangutans (Pongo pygmaeus), Danum Valley.
| | | |
| --- | --- | --- |
| Proboscis monkey, Kinabatangan. | Boat rides along the Kinabatangan are a good way to see Borneo's most famous endemic, the proboscis monkey (Nasalis larvatus). Surrounding forests are inhabited by ten more species of primates. Macaques, orangutans, leaf monkeys, and gibbons live at different levels, from the undergrowth to the canopy. | Proboscis monkey, Kinabatangan. |

Silver langur (Presbytis cristata),
Kinabatangan River.

Silver langurs have apricot-colored
babies. Kinabatangan River.

Maroon langur (P. rubicunda),
Danum Valley.
| | | |
| --- | --- | --- |
| Spectacled langur, Templer Park. | Once I saw a female spectacled langoor (P. obscurus) drop her baby from a tree. The baby fell about forty meters and died. For almost 20 hours, the herd remained at this spot, looking in silence at the dead baby on the ground below. | Dead baby langur, Templer Park. |

Long-tailed macaques (Macaca
fascicularis) originally lived
in coastal and riparian forests.

They easily adapt to life around human settlements,
and now occur throughout lowlands and hills of Malaysia,
often displacing other monkey species.

Sometimes they turn aggressive,
grabbing bags and cameras from
tourists. Kinabatangan River.

Bronchocelea lizard, Gunung Mulu.
Note the Culex mosquito on its leg.
National parks of Sarawak are best known for their giant caves and cave fauna, but they also have wonderful limestone, sandstone, and peat swamp forests, packed with rare flora and fauna. I found some very interesting reptiles, birds, rodents, and wild cats there.

Sphenomorphus lizard,
Niah Caves, Sarawak.
Reticulated python (Python reticulatus), Niah Caves.

Pale giant
squirrel
(R. affinus),
Danum
Valley.

Pale giant
squirrel
(R. affinus),
Gunung
Mulu.

Black giant
flying sq. (A.
tephromelas)
with a cub,
Kinabatangan.
There are 35 beautiful species of squirrels on Borneo, ranging from meter-long giant (Ratufa) and giant flying (Petaurista, Aeromys) to mouse-size pygmy (Exilisciurus) and pygmy flying (Petaurillus). 9 more species occur on Malay Peninsula.

Hoary flying
squirrel
(Pteromyscus
pulverulentus),
Danum Valley.

Plain squirrel
(Callosciurus
notatus),
Gunung
Mulu.

Prevost's
squirrel
(C. prevostii),
Gunung
Mulu.
Exilisciurus pygmy squirrels are probably the cutest ones.
257 Kb .wmv video

Ear-tufted pygmy squirrel (E. whiteheadi),
Mt. Kinabalu.
Tiny pygmy squirrel (E. exilis),
Kinabatangan River.
Tiny pygmy squirrel (E. exilis),
Gunung Mulu.

Bicolored imperial
fruit-dove (Ducula
bicolor), P. Tiga.
Small islands off Borneo have their own collection of natural wonders. Pulau Tiga, for example, has mud volcanoes and a lot of birds, while nearby tiny Pulau Ular is famous for spectacular aggregations of sea snakes. Hundreds of yellow-lipped sea kraits (Laticauda colubrina) come out of the sea to mate here. Unfortunately, their numbers are steadily diminishing because of overexploitation by leather industry.

Sea kraits can
reach 2 m/6' length.
Pulau Ular.

Approaching Pulau
Ular (Snake Island),
Sabah.

Sea snakes have flattened
tails for better swimming.
Pulau Ular.

Yellow-lipped sea krait is
highly poisonous, but very
docile. Pulau Ular.

Unlike some other sea
snakes, sea kraits are still
comfortable on dry land.

Picus vittatus, a common
coastal woodpecker.
Kuala Selangor.

Bulbul Pycnonotus
melanicterus, Fraser Hill.
Biogeographically, Peninsular Malaysia is one of the Greater Sunda Islands rather than a part of mainland Asia. The main reason is that, unlike adjacent Indochina, it doesn't have much difference between wet and dry seasons. It has excellent Nature reserves in lowlands and mountains, and one that spans all altitudes from 200 to 2,187 m.

Traveling to Taman
Negara National Park.

Fraser Hill is one of the best places to see montane
rainforests of Malay Peninsula, with their share
of endemic plants and animals.

Just two hours' drive from Singapore,
Panti Forest Reserve still has some
good lowland rainforests left.

Huge Taman Negara National Park has pristine
lowland, hill, and mountain rainforests, plus
some cloud forests on mountaintops.

Reddish scops-owl
(Otus rufescens),
Taman Negara.
There are about 730 bird species in Malaysia, two of them endemic to the mountains of Malay Peninsula.

Barred eagle-owl
(Bubo sumatranus),
Templer Park.
Owls are my personal favorites, but most people seem to favor more easy-to-find pheasants, hornbills and pittas.

Reddish scops-owl
(Otus rufescens),
Taman Negara.

Gallus gallus, the wild ancestor of
domestic chicken, is very shy and
hard to approach. Kuala Selangor.
Fireback pheasants of Taman Negara:
Lophura ignita (left), L. erythrophtalma.
Male crested partridge (Rollulus rollul),
Panti F.R.

Greater argus,
Taman Negara.
Note the tail
feathers below.
I find tropical pheasants, particularly Argus pheasants, very frustrating to watch. They are among the world's most impressive birds, but all you see in the forest are silhouettes and glimpses. Their spectacular lekking is difficult to observe even in captivity.


Greater Argus (Argusianus argus), Taman Negara. These 3 images were digitally enhanced.

Crested argus
(Reinardia
ocellata),
Taman Negara.
Tropical pigeons can be almost as colorful as pheasants. Left to right: Ducula aenea, Chalcophaps indica (male and female), Trenon vernans.

Asian clawless otter (Aonyx
cinerea), Taman Negara.
Taman Negara has a lot of large mammals, but finding them takes a lot of effort. In five days, I only saw a tapir (sorry, no picture), some small deer, and a few small carnivores. Rodents and bats are abundant, easier to see, and extremely diverse, but difficult to photograph.

Oriental civet (Viverra
megaspila), Taman Negara.
Lesser mouse deer (Tragulus javanicus), Taman Negara.

King cobra (Ophiophagus
hanah), Panti F. R.
I had better luck with large mammals, such as big cats, in less-touristic Panti Forest Reserve in the far south of Malay Peninsula. Snakes and birds were also very interesting there. Unfortunately, this reserve is threatened by logging.

Kukri snake (Oligodon sp.),
Panti F. R.
Brush-tailed porcupines (Atherurus macrourus) and red, or common, muntjacs (Muntiacus muntjak), Panti F. R.

Milky stork (Mycteria
cinerea), Medan.
Small Nature reserves, such as Temler Park outside Kuala Lumpur, or Kuala Selangor on the west coast, can also be very interesting. The latter is the best place to see coastal flora and fauna, especially birds and reptiles. It is also the site of captive breeding program for endangered milky stork.

Giant carpenter bee
(Xylocopa), K. Selangor.

Water monitor (Varanus
salvator), Kuala Selangor.
Mangrove snake (Boiga dendrophila),
Kuala Selangor.
Malay box turtle (Cuora amboinensis),
Kuala Selangor.

Termite trail on forest floor,
Templer Park.
As usual, the most diverse and interesting inhabitants of the forest are insects. But most visitors either ignore or hate them. A large butterfly or a swarm of fireflies might attract some interest, but otherwise, the most important forest creatures go largely unnoticed.

Soldier protecting workers on a
termite trail, Templer Park.

Leaf insects (Phyllium) are heavily
exploited by insect trade worldwide.
They are now rare in Thailand and
the Philippines, but still common in
Malaysia. Fraser Hill (1/4 nat. size).

Dry leaf mantis
(Deroplatys), another
common victim of insect
trade. Templer Park
(1/3 natural size).

Ayuthia
cicada,
TemplerPark
(1/2 natural
size).

To build a nest, weaver
ants (Oecophylla) glue
leaves together with
silk, using their larvae
as glue tubes. Panti F.R.

So-called "trilobite larvae" were a
major 19th century entomological
mystery, until it was discovered
that they belonged to Duliticola
beetles. Taman Negara.
Of about 30 Malaysian firefly species (69 Kb .wmv video), only one (below) has become an official tourist attraction.
Female Lychnuris analis firefly, 1/2 natural size,
Templer Park.
Starworm (left) and flying adults of Pteroptyx
tener firefly, Kampung Kuantan.


Synchronized fireflies Pteroptyx tener, Kampung Kuantan, Selangor (hand-drawn cartoon).


Tips for naturalists traveling in Malaysia can be found here

Back to Part 1
Home