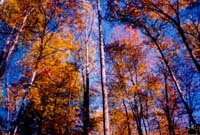 Hardwood forest, Blue Ridge Parkway, Tennessee

Wild, Wild East - Part 3

The most beautiful forests of the East are hardwood forests (also called nemoral or deciduous in other countries). They occupy most of the territory between Great Pine Belt and the southernmost tip of Canada. They bear striking resemblance with ancient forests of Eastern China, Japan, Korea and Ussuriland, in general appearance as much as in some details. Ferns, gnats, moths and trees are very similar between the two regions, while songbirds, lizards and salamanders are mostly different.

White Mountains,
New Hempshire.
The very center of hardwood diversity and beauty is Great Smoky Mountains Nat'l Park in the Appalachian mountains. Except for a few meadows and islands of conifers on mountain tops, it is a sea of leaves, famous for outstanding fall colors. From May to November, and endless river of cars flows along the few paved roads of the park, but just walk for five minutes away from the road - and you are in pristine woods almost never visited by people. This is a good place to see what "high biodiversity" means: if you turn over some logs and stones after a spring rain, you can find 10-15 species of salamanders within an hour or two. It is one of very few places outside tropics where you can live for a year and see something new every day.

Great Smoky Mountains,
Tennessee.

Summit of Mt. Washington, New Hempshire,
holds the world record for wind speed.
And, unlike in tropics, you have four seasons, with unpredictable weather. Weather of the American East, by the way, is kind of eccentric, even compared to other regions of so-called "moderate climate".

October in White Mountains,
New Hempshire.

Maple-fir forest,
Green Mountains,
Vermont.
River valleys of the Appalachians are a naturalist's paradise. Some of the world's best freshwater snorkeling sites are hidden in the dense forests of Eastern Tennessee, Southern Kentucky and Western Carolinas. Sometimes you don't even have to dive, as the most colorful local fishes can be easily seen by wading through shallow ruffles or pools. But most of these living gems are very small, 1-4 inches (2.5-10 cm) long, so you'll get better views at close range. Most of them can be easily approached from underwater.

Big South Fork of
Cumberland River,
Tennessee

Bigleaf magnolia
(Magnolia macrophylla),
Okmulgee, Georgia.


Umbrella magnolia
(M. tripetala), Pickett
St. Park, Tennessee.

Cucumber magnolia
(M. acuminata), Allegheny
N. F., Pennsylvania.

Swamp magnolia
(M. virginiana),
Manteo, N. Carolina.


Southern magnolia (M. grandiflora),
Atchafalaya River, Louisiana.

Ashe magnolia (M. ashei),
Apalachicola River, Florida.


Fraser's magnolia (M.
fraseri), Great Smoky
Mts, Tennessee.

Carolina allspice
(Calycanthus floridus),
Stone Mt., Georgia.
Of all the treasures of Tertiary flora surviving in the East, magnolias are my personal favorites.



Actaea pachypoda,
White Mountains,
New Hempshire.

Blooming of mountain laurel
(Kalmia latifolia),
Shenandoah, Virginia.

Vaccinum virginiana,
Shenandoah Nat'l Park,
Virginia.


Unknown parasitic
orchid, Great Smoky
Mts, North Carolina.

Wild turkey (Meleagris gallopavo),
Fossil Rim, Texas.

Whooping cranes (Grus americanus),
Aransas, Texas.

Wild turkey (Meleagris gallopavo),
Fossil Rim, Texas.

Blue jay (Cyanocitta cristata),
Ottawa, Ontario.
Birds are the only part of Eastern fauna that is adequately appreciated for its diversity. For millions of people, birdwatching is the only reason to leave cities on weekends and have a look at the world outside. Surprisingly, birds are just the group that is not particularly interesting in the Eastern States.

Anhinga (Anhinga anhinga),
Loxahatchee, Florida.
Birds of Northern Appalachians, left to right: white-breasted nuthatch (Sitta carolinensis), red-breasted nuthatch (S. canadensis), wood thrush (Catharus mustelina), black-capped chickadee (Parus atricapillus), junco (Junco hyemalis).

Northern cardinal (Cardinalis
cardinalis), Pennsylvania.
Except for wood-warblers (Parulinae) , there are very few endemics in the area, and the overall diversity north from Gulf Coast is relatively low. The morning chorus in spring forests is beautiful, but far less impressive than in Europe or Eastern Asia.

Northern mockingbird (Mimus
polyglottus), Pennsylvania.

Northern flicker
(Colaptes auratus),
feeding on an ant colony
destroyed by a bear,
Voyagers, Minnesota

Carolina wren
(Thyotorus ludovicianus)
stealing larvae from
nests of Polystes wasps,
Adirondak, New York.

Indigo bunting
(Passerina cyanea),
singing near a nest,
Ouachita Mountains,
Arkansas.

Brown thrasher
(Toxostoma rufum),
chick on the first
trip out of the nest,
Stone Mt., Georgia.

Red-shouldered hawk
(Buteo lineatus),
waiting for bats at cave
entrance, Mammoth
Cave, Kentucky.
| | | |
| --- | --- | --- |
| Ouachita Mountains, Arkansas. | The eastern slope of the Appalachians is relatively steep. In the west, they are paralleled by dozens of smaller ridges. Some of these secondary ranges, such as the Ozarks and the Ouachitas, have plants and animals of their own. | Geastrum saccatum mushroom, Ohio. |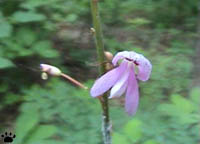 Unidentified flower, Pennsylvania.
Home
Back to Part 2