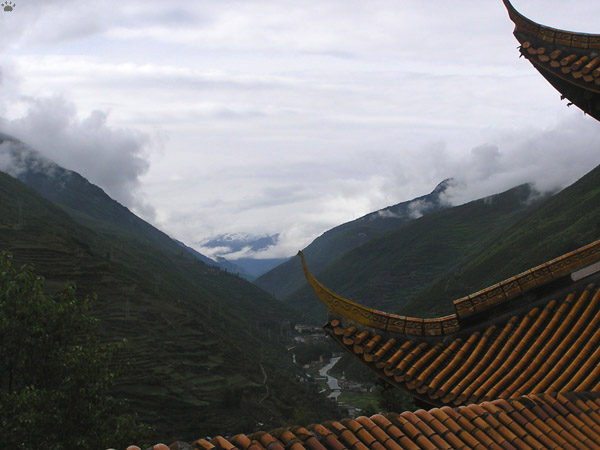 View towards Tibet from a hill above Kanding.

Part 8. Western Sichuan

If you take the road west from Chengdu, you soon arrive into Kanding. It is the first Tibetan city on your way, a portal to a very different world.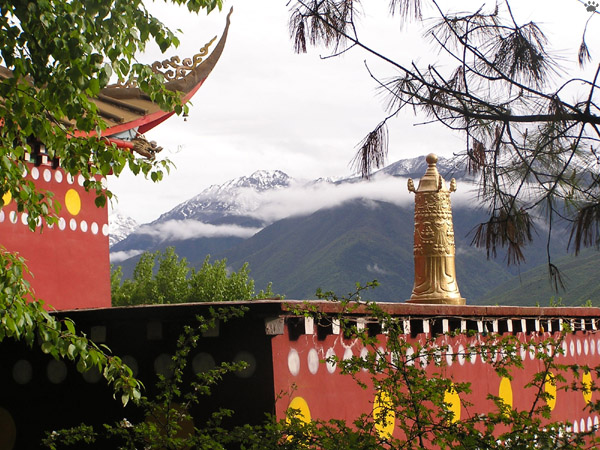 Paoma Temple, Kanding.
| | | |
| --- | --- | --- |
| Hotel balcony, Kanding. | Following the Chinese occupation of Tibet, the city has seen some of the most violent fighting, with numerous uprisings against the Communist rule. It has even been bombed by Chinese Air Force. But now it is very safe and peaceful. | Inside Arjue Monastery, Kanding. |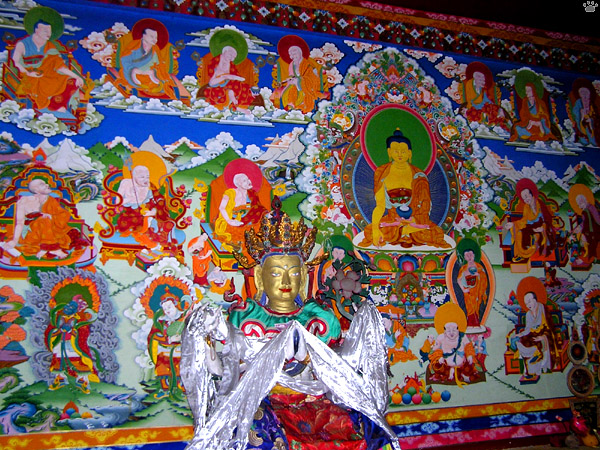 Inside Arjue temple, Kanding.
| | | |
| --- | --- | --- |
| Inside Arjue temple, Kanding. | In fact, Tibetan culture in Sichuan is undergoing an impressive revival. It is a result of relaxed government control over religion, but mostly of rapidly growing Chinese tourism. Suddenly, all things Tibetan are in fashion. | Textiles, Kanding. |
Temple frescoes, Kanding.

Kanding has three major monasteries and a few temples, plus at least two
dozen small shrines. This is Namwu Monastery.
Ten years ago, most Chinese despised Tibetans as backwards dirty barbarians. Now they come in thousands to see the temples and monasteries. There are also lots of Westerners in Kanding, but not that many further west.

Christian church, Kanding. As usually, Christianity brings the beauty of
Western culture and spirituality to savage, primitive, illiterate Pagans.

Grey-headed bullfinch (Pyrrhula erythaca),
Kanding.

Grey-headed bullfinch,
Kanding.

Lady Amherst's pheasant,
Kanding.

Lady Amherst's pheasant (Chrysolophus
amherstiae), Kanding.
The forested hill above Kanding is a sacred mountain, so it has a lot of interesting birds and mammals, even a few musk deer. Another interesting place is a mountain pass a few kilometers west. In winter, it reportedly has hundreds of wintering pheasants, Tibetan partridges, snowfinches, rosefinches, tit-warblers, rosy-finches, and other high-elevation birds.
Views of Northern Sichuan-Tibetan Highway.
| | | |
| --- | --- | --- |
| Sichuan-Tibetan Highway leaving Kanding. | Soon after leaving Kanding, the road splits into Northern Sichuan- Tibetan Highway and Southern STH. NSTH is a bit longer, but more scenic, more interesting, and less touristy. | Town of Changgeng on Sichuan-Tibetan border. |
| | |
| --- | --- |
| A tiny lakeside monastery near NSTH. | Baiyu town, NSTH. |
| | | |
| --- | --- | --- |
| Ganze town, NSTH. | The road passes through numerous small towns and villages. The state of preservation of Tibetan culture in this part of Sichuan is currently much better than almost anywhere else in Tibet, even in Lhasa area. And it is more diverse than elsewhere. | Ganze town, NSTH. |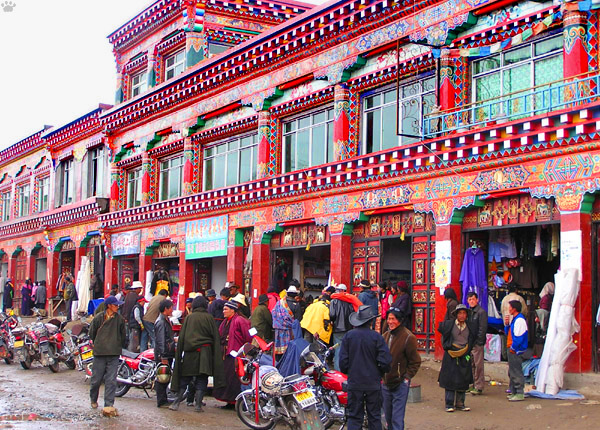 Small village, NSTH.
| | | |
| --- | --- | --- |
| Changgeng town. | Every time you cross a mountain pass from one valley to another, the architecture of village houses, the clothes people wear, even the dialect changes. On the way from Kanding to Lhasa, you see at least ten such changes. | Dege town, NSTH. |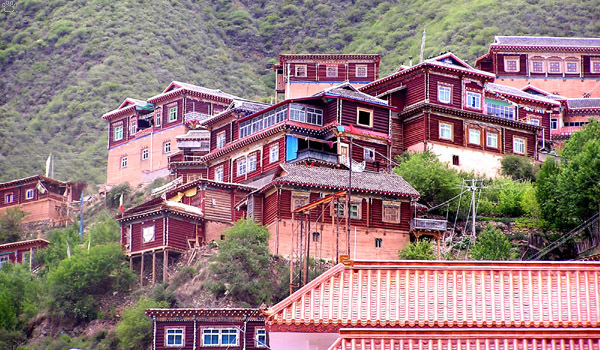 Dege town, NSTH.
| | | |
| --- | --- | --- |
| Monastery entrance, Dege. | Soon you get to places where people see very few visitors. They are still as friendly, curious and relaxed as they used to be in all of Tibet before the recent onslaught of mass tourism. | Small street, Dege. |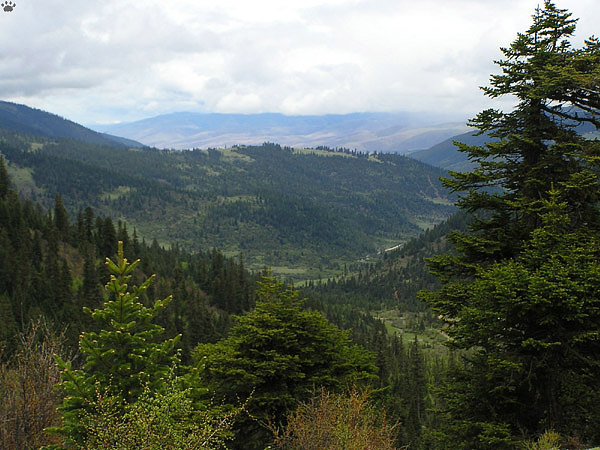 ObaLa Pass, NSTH.
| | | |
| --- | --- | --- |
| ChoLa Pass, NSTH, late May 2006. | There further west you go, the higher are the mountain passes, and the more forested the valleys. The area along the border with Tibet is the best. | ChoLa Pass, NSTH. |
| | | |
| --- | --- | --- |
| Spruce-larch forest, ObaLa Pass, NSTH. | Chinese larch (Larix sinensis), ObaLa. | Fir-rhododendron forest, ObaLa Pass, NSTH. |
| | | |
| --- | --- | --- |
| Road problems, ChoLa Pass, NSTH, late May 2006. | Although all roads to Tibet from the east are open year-round, snowstorms can block the high passes at any time from late September to early June. | ShamLa Pass, NSTH. |
May snowstorm at ChoLa Pass, NSTH.

White-lipped deer (Cervus
albirostris), White-lipped Deer
Nature Reserve, Sichuan.
Sometimes you can spot marmots, pheasants, ibisbills, snowcocks and other wildlife from the road, but to see less common stuff you have to walk up side valleys. For true rarities, especially large mammals, you have to take small side roads and then hike into uninhabited areas. Such places are increasingly rare to find. Poaching is a major problem, despite the efforts by the government to control it. Overgrazing and deforestation are also destroying much of the area. Still, environmental situation in Western Sichuan is way better than in most parts of Tibet Autonomous Region further west.

Red-billed chough (Pyrrhocorax
pyrrhocorax) nest under a temple
roof, Sichuan.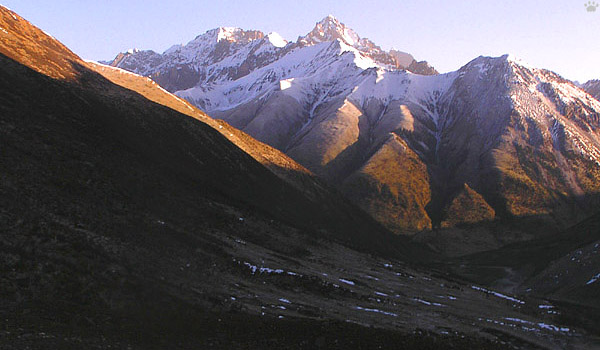 ShamLa Pass, NSTH.