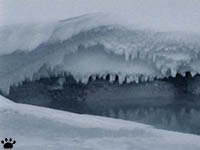 Entrance to Oroktuktuk Crevasse Labyrynth, a unique
cave in Siberia, now flooded by Zeya Reservoir.


Part 4. Caves of Europe and Northern Asia

The Eurasian continent has lots of caves, but only those in Western and Central Europe are well known outside the countries they are in. Probably the most interesting in Western Europe are caves with Paleolitic paintings, located in France and Spain. Most of them, including the famous Laskaux, are closed for visitors, and Altamira has a 3-year waiting list.
| | | |
| --- | --- | --- |
| Baradla Cave, Hungary. | The best karst areas of Europe are in Czech, Slovakia and Slovenia. But the most beautiful cave, Baradla, known as Jaskyna Domica in Slovakia, is even better from its Hungarian side. | Baradla Cave, Hungary. |

Myotis brandti is one
of the most common
bats in Europe. Crimea.
Other very beautiful caves are Javoricko in Czech Republic, Postojnska in Slovenia (a good place to see olm Proteus anguinus, Europe's only cave salamander), and the exquisite Piatra Altarui in Romania (closed to visitors). Dyavolsko Garlo in Bulgaria has seven tall waterfalls, Grotte aux Fees in Switzerland - the World's tallest cave waterfall (77 m). Movile Cave in Romania is known for its unique chemotrophic ecosystem, which includes Haematopius movilensis, the World's only known cave leech. Alas, this cave is also closed for visitors.

Lumenescent moss
(Schistostega pennata),
Optimist Cave, Ukraine.
| | | | | |
| --- | --- | --- | --- | --- |
| Marble Cave, Crimea. | Marble Cave, Crimea. | Ukraine has some nice caves, especially in the mountains of Crimean Peninsula. There are also ancient cave cities in the Crimea, but not as large as in Cappadokia. | Cave pearls, Red Cave. | Ceiling, Red Cave. |
| | | |
| --- | --- | --- |
| Red Cave, Crimea. | Red Cave near Simferopol-Alushta Highway in the Crimea is a good place to get some cave diving experience. It has many beautiful halls accessible only by short dives, sometimes with swift current. It also has a lot of beautiful formations, including cave pearls. If you prefer touristic caves, try Marble Cave on Chatyr Dag Mountain. | Red Cave, Crimea. |

Grotta Azzurri is beautiful, but sometimes
terribly overcrowded. Capri I., Italy.
There are also numerous sea caves in Europe. The most popular is Grotta Azzurra on Capri I., Italy, the most dangerous to visit - the 100-m long Roaring Grotto at volcanic Karadag Mt., also in the Crimea.

Roaring Grotto is only accessible to very good
swimmers in very calm weather. Crimea, Ukraine.
| | | |
| --- | --- | --- |
| Kungur Ice Cave, Russia. | Russia has many caves, almost all of them "wild". The most unique one is Kungur Ice Cave, located near a Transsiberian Railroad station of Kungur, just west of Europe/Asia border in the Ural Mountains. | Kungur Ice Cave, Russia. |
| | | |
| --- | --- | --- |
| Kungur Ice Cave, Russia. | The cave is open year-round, but its wonderful ice formations are at their best in late winter. March is usually the time to visit. Among the wonders of the cave are snowflakes the size of a maple leaf. | Kungur Ice Cave, Russia. |
| | | | | |
| --- | --- | --- | --- | --- |
| Kungur Cave. | Kungur Cave. | Kungur Cave. | Kungur Cave. | Kungur Cave. |
| | | |
| --- | --- | --- |
| Kapova Cave, Russia. | Kungur is a showcave, but there are hundreds of "wild" caves in the Urals, some almost as scenic. The only other showcave is Kapova, known for a few Paleolitic cave paintings. | Unnamed cave near Sob', Polar Urals, Russia. |
| | | |
| --- | --- | --- |
| Cave near Pinega River, Northern Russia. | Not surprisingly, most of Russia's caves are ice caves. Look for them in Arkhangelsk area in the North, Altai Mountains in Southern Siberia, Ussuriland on the Pacific Coast, and the Russian part of the Caucasus. | Cave near Pinega River, Northern Russia. |

Entrance to a glacial cave,
Kamchatka, Russia.
There are also some glacial caves in Europe and Siberia, but they are not as numerous and large as glacial caves of Alaska and the Central Asia. Their locations often change as glaciers move and the climate gets warmer.

Glacial cave, Klyuchevskoi
Volcano, Kamchatka, Russia.

Barbastella leucomelas,
Abun Cave, Chechnya.
Europe has numerous abandoned mines. Some have been converted into churches and cathedrals (the most interesting ones probably in Wieliczka, Poland, and in Greece). In Russia, the Caucasus, and the Central Asia, old mines are often used by bats, criminals, terrorists, satanic cult members, bored schoolkids, and adventurous cavers. Unchartered mines like the old stone quarries near Moscow and the gem mines of the Hindukush are probably the most dangerous subterranean places in the World.

Myotis nattereri,
Myachkovo, Russia.
| | | |
| --- | --- | --- |
| Sataplia Cave, Georgia. | The most interesting caves of the Caucasus are in Georgia. They include the World's deepest cave (Voronya, in Abkhazia, 1710 m). This cave is in a remote borderline area, and very difficult to get to. Of the showcaves, two have particularly beautiful formations: huge Novy Afon Cave in Abkhazia, and small Sataplia Cave near Kutaisi. | Millipedes, Sataplia Cave. |
| | | |
| --- | --- | --- |
| Novy Afon Cave, Abkhazia. | Sataplia Cave, Imereti, Georgia. | Novy Afon Cave, Abkhazia. |

Hoja Mumin Mt.,
Tajikistan.
The climate of Central Asia is now dry and not good for karst, but it still has some of the World's most interesting caves, and even some ancient tower karst in Pamir Mts. 700 m-high Hoja Mumin Mt. near Kulyab, Tajikistan, consists almost entirely of salt, and has many caves with helictites and soda straws. In windy days, these caves can be found by the musical sound of the air passing though delicate cave formations. Bakharden Cave in Turkmenistan has a warm lake and a bat colony, but is a bit too popular.

Hoja Mumin Mt.,
Tajikistan.

Fiery cave, Kuhi-Malik,
Tajikistan.
The famous "fiery caves" of Kuhi-Malik in Tajikistan, well-known since Herodotus, were formed in burning coal layers. They contain many unique minerals, but entering them is dangerous and difficult. Other interesting caves of Tien Shan include Great Barite Cave near Aravan, Kyrgyzstan, and Ak-Mechet-Aulie, a giant sotano-like sinkhole with a grove of mulberry trees at the bottom.

Aragonite, Great Barite Cave,
Kyrgyzstan.
| | | |
| --- | --- | --- |
| Kap-Kutan Caves, Uzbekistan. | The World's most beautiful cave system, Kap-Kutan Caves of Kugitang Mts., is located in remote Eastern Turkmenistan, not far from the Afghan border. It's similar to Lechugilla Cave of New Mexico, but is much more rich in spectacular gypsum formations. Here's a website about these caves, with many excellent photos. Sarek Cave in Israel, Ali Sadr Cave in Iran, and large caves of Oman are far less unique, but also worth visiting. | Kap-Kutan Caves, Uzbekistan. |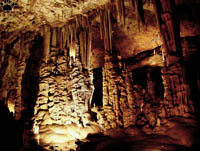 Sorek Cave, Israel.
Part 5. Caves of East Asia
Back to Part 3