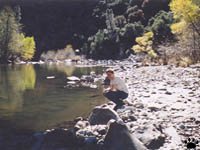 Forest river near Santa Cruz.

Part 5. The Bay Area

Few urban areas in the world are as interesting for a naturalist as San Francisco Bay Area with its extensive salt marshes, forests, sand dunes, Mediterranean grasslands, and offshore islands. I lived there for six years, and each weekend was an adventure. Even if I had no time to leave the city, there was always something interesting going on around. Just imagine what a terrible torture it was: to live in a place like this, and to have to spend five days a week at work!

View from Cone Peak,
Santa Lucia Mountains.
If you only have time to visit one place in California, I'd recommend Santa Lucia Mountains south from Monterey. This wonderful area has everything: coniferous forests and oak savannas, vernal pools and giant redwoods, unique plants and rare animals, rugged coast and picteresque fog, migrating whales and elephant seals, kelp beds and sea otters, spring wildflowers and clear streams, majestic condors and tiny salamanders, plus stunning views of the Pacific Ocean.

Santa Lucia fir (Abies
bracteata), Cone Peak.
Northern flicker (Colaptes auratus), Los Gatos
Pacific-slope flycatcher
(Empidonax difficilis), Los Gatos.
Cooper's hawk (Accipiter cooperi), Los Gatos

Acorn woodpecker
(M. formicivorus),
Los Gatos.
Even in the cities of California, there is some interesting wildlife. Dozens of bird species nest in residential areas; bats live under roofs; salamanders hide in stone fences; at night, deer, skunks and raccoons move quietly along dark streets. Some city parks have higher density of bird and mammal populations than the forests outside the populated areas. Of 13 native owl species, 8 can be seen in cities and parks.

Red-breasted sapsucker
(Sphyrapicus ruber),
Los Gatos.
Red-tailed hawk (Buteo jamaicensis),
Vallejo.

Garter snake (Thamnophis
sirtalis), Los Gatos.

Cliff swallows (Hirundo pyrrhonota), Ventura.
Raccoons (Procyon lotor),
downtown Berkeley.
Raccoons (Procyon lotor), Berkeley
Some of the common birds of our garden in Santa Cruz Mountains. Upper row, left to right: mourning dove (Zenaida macroura), Steller's jay (Cyanocitta stelleri), American junco (Junco hyemalis), band-tailed pigeon (Columba fasciata), Western scrub jay (Aphelocoma californica). Lower row, left to right: house wren (Troglodytes aedon, rescued after flying into a window), hermit thrush (Catharus guttatus).

Shrew-mole
(Neurotrichus gibbsii),
in a tea cup, Los Gatos.
Some city inhabitants are very difficult to see, such as shrews (Sorex), subterranean pocket gophers (Tomomys bottae) and broad-footed moles (Scapanus latimanus). In San Francisco Bay Area, high winter tides provide a chance to see rare and shy creatures of tidal marshes - rails and endemic salt marsh harvest mouse (Reinthrodontomys raviventris).

Shrew-moles are cute
and friendly, but don't
make good pets.

Pocket gopher,
Monterey.

Shrew S. throwbridgii,
Los Gatos.

Western harvest mouse
(R. megalotis), Los Gatos.

Clapper rail (Rallus
longirostris), Palo Alto.

Shrew S. throwbridgii,
Los Gatos.

Pocket gopher,
Berkeley.
Some of Californian hummingbirds, left to right: Selasphorus costae, Amazilia latirostris, S. sasin, S. annae, S. platycercus.

Anna's hummingbird feeding
during a snowstorm, Los Gatos.
More than half a dozen species of hummingbirds breed in California, but only Anna's hummer (Selasphorus annae) is hardy enough to winter in the northern part of the state. It is also more closely associated with human settlements than others, being the most common species at hummingbird feeders.

Nest of Anna's hummingbird,
Santa Rosa.
| | | |
| --- | --- | --- |
| | Wintering monarchs (Danais phlexippus), Santa Cruz. | |

Burrowing owl
(Athene cunicularia),
Oakland Airport.

Northern saw-whet owl
(Aegolius acadicus),
McArthur Falls.
There are 13 owl species in California. At least nine of them can be seen in cities and parks. Others are more difficult to find, but all are fun to look for and observe.

Great gray owl
(Strix nebulosa),
Yosemite.

Burrowing owl
(Athene cunicularia),
Oakland Airport.
Spotted owls (Strix occidentalis), Mosquito Ridge.

Western screech-owl
(Otus kennikotti),
Devil's Punchbowl.
Our neighbor Mike Parker has installed a webcam in a nestbox occupied by a family of Western screech-owls. Every May, we can enjoy watching the chicks grow. You can see Mike's site at www.parkers.to/owls/ Below are some of the shots I downloaded from his camera last year.

Western screech-owl
(Otus kennikotti),
Los Gatos.

Western Gull (Larus occidentalis), Salt Point.
Gulls are even more ubiquitous than owls. 15 resident species of similarly looking gulls, plus endless vagrants, subspecies, individual varieties and hybrids, provide endless fun for birdwatchers.

Western gull, Monterey.

Western Gull, San Francisco.


Coast south from Big Sur, California
Part 6: Baja California
Back to Part 4