Part of an ancient rock painting in Gardner Cave, a.k.a. Cueva Pintada (combination of 7 images).
Part 7. Southern Baja California
Halfway along the Peninsula, near Guerrero Negro, you cross the state line from Baja Frontera into Baja California Sur.

Jumping cholla (O. fulgida),
boojums, and cardon,
Catavina.
The area from there to Santa Rosalia is officially protected as El Vizcaino Biosphere Reserve. Here you can see the last herds of Baja's large ungulates: peninsular pronghorn (Antilocapra americana) and peninsular bighorn sheep (Ovis canadensis peninsularis). In addition to flora and fauna of Vizcaino Desert, the reserve also protects two of the three lagoons where almost all of the world's gray whales breed (see Whales page for details and photos).

Creosote bush (Larrea tridentata)
and datilillo (Yucca valida),
San Ignacio.

Black-tailed jackrabbit (Lepus
californicus), crossing the road
near Puerto Cancun.
Driving at night between Guerrero Negro and San Ignacio is a good way to see Baja's small mammals. Trying not to drive over them is a tough test of your driving skills, while identifying them as they cross the highway (right) will let you test your knowledge of desert rodents. Baja mouse (Peromyscus eva) and Baja pocket mouse (Chaetodipus arenarius) can be seen here along with many other species.

Kangaroo rat (Dipodomys
simulans), crossing the road
near Vizcaino.

T. recurvata,
Puerto Cancun.
Pacific coast south from Guerrero Negro is the only fog desert in North America. Plants in some areas are covered with epyphytes, such as globe moss (Tillandsia, left) and Spanish moss (Ramalina, right). None is really a moss: "globe moss" is a flowering plant, and "Spanish moss" is a lichen.

R. reticulata,
Puerto Cancun.
| | | |
| --- | --- | --- |
| Mission San Ignacio, 1728-1840. | All the way from US border to Guerrero Negro, Baja is culturally americanized. Local settlements look like bombed-out American towns. But starting from San Ignacio, you see truly Mexican villages, with relaxed lifestyle, beautiful architecture, and pleasant streets, sometimes leading to old Catholic missions or churches. In Baja Sur, only two largest cities, La Paz and Cabo San Lucas, have already turned into featureless tourist boomtowns. | Mission cross, San Ignacio. |
| | | |
| --- | --- | --- |
| | Details of interior, Mission San Ignacio. | |
| | | |
| --- | --- | --- |
| Mission Santa Rosa de Mulege, 1705-1828. | There is about a dozen of old Catholic missions in Baja, but only three are well-preserved and accessible via paved road. Of the three, mission in Mulege is the most authentic-looking one. | Mission Santa Rosa de Mulege, 1705-1828. |

Hooded orioles (Icterus
cucullatus), Mulege.

It is located on a hilltop above a palm oasis. In addition to being very beautiful, this mission is a great place to see local wildlife: vermilion flycatchers (Pyrocephalus rubinus), orioles (left), Nelson's antelope squirrels (Ammospermophilus nelsoni), endemic Baja rock squirrels (right), and, twice a year, thousands of migrating Painted Lady butterflies (Vanessa cardui).


Baja rock squirrel (Spermophilus
atricapillus), Mulege.

Mission Nuestra Seniora
de Loreto, 1697-1822.

Bell tower, Loreto Mission.
Mission in Loreto is the oldest one.

Inscription"Head and Mother of the missions of Alta
and Baja California" above the entrance of Loreto Mission.


View from the belltower,
Loreto Mission.

Age, meaning, and origin of the
rock art are still a mystery. This
one, probably showing flying fish,
was painted in a small grotto near
Bahia Concepcion.

Baja's most interesting art is many times older than missions. Scattered in remote mountains between Catavina and Loreto are thousands of prehistoric cave paintings, from tiny sketches to colossal murals up to 160x10 meters (530x33') in size. Recent studies suggest that this "rock art" was created in 1500-500 B.C., mostly for religious purposes.


The most famous mural, "The Sad
Coyote", has eroded to the point
when it's almost impossible to
photograph, and will probably
disappear within a few years.

Sierra de la Giganta
south from Loreto.

Crossing Sierra de la Giganta
near Huatamote.
The Sea of Cortez coast from Santa Rosalia to Bahia Coyote is the most scenic part of Baja California. It is a 200 mile-long chain of rocky peninsulas, cozy beaches, big and small islands, old towns, clean mangrove-bordered lagoons, and rivers lined with palm groves, always with great views of Sierra de La Giganta just above the shoreline.


Desert mushroom Podaxis pistullaris, Santa Rosalia.

Habitat of fishing myotis
near Loreto.

Weird lava flows on a slope
above Bahia Concepcion.

View of Sierra de la Giganta from Juncalito Beach
south of Loreto.

Ocotillo blooming above Bahia Concepcion, said to be
one of the World's most pristine marine ecosystems.

Mexican fan palms (Washingtonia
robusta) form large riparian
forests in Southern Baja, and even
grow along mountain streams
in the far South. Mulege.
From Mulege south, tropical-looking plant communities begin to appear. In addition to palm oases and mangroves, you can see some trees of dry tropical forests. Cardons and other desert plants still dominate the landscape, growing all the way to Baja's southern tip. In this area, rains mostly fall in late summer and fall, during infrequent tropical hurricanes.

Mangroves grow in protected bays,
providing habitat for countless
birds, fishes, insects and marine
invertebrates such as oysters.
Bahia Concepcion.
Common trees of southern Baja, left to right: zalate (Ficus palmeri), palo verde (Cercidium microphyllum, two images), Palo blanco (Lysiloma candida). Rio Candelaria.

Tropic of Cancer monument. There
used to be a black line showing
the tropic on the globe, but it
eroded away.
The crossing of the Tropic of Cancer by the Transpenisular Highway is marked by a monument (left), a chapel (right), and a restaurant named El Tropico.

Inscription on the monument.

Tropic of Cancer chapel. This place
is approximately 1,100 miles/1,760
km by road from the US border, and
52 miles/83 km from C. San Lucas.

Cactus wren,
Rio Candelaria.

Loggerhead shrike,
Rio Candelaria.
Southern Baja is an island of dry tropical forests, isolated from the mainland by sea and desert. It has a lot of unique plants, but its fauna is similar to that of southeastern Alta California, with only a few tropical species and a handful of endemics. Most of the common birds shown here can be found in USA.

Gilded flicker and gray
thrasher, San Antonio.

California gnutcatcher,
Rio Candelaria.

White-winged dove
(Zenaida asiatica),
Puerto Cancun.

California towhee
(Pipilo crissalis),
Rio Candelaria.

Gila woodpecker
(Melanerpes
uropygialis), La Paz.

Ash-throated flycatcher
(Myiarchus
cinerascens), La Paz.
Reptiles of Isla San Esteban, left to right: San Esteban chuckwalla (Sauromalus varius), San Esteban speckled rattlesnake (Crotalus mitchellii isolatum), spiny-tailed iguana (Ctenosaura hemilopha).

Xantus' hummingbird (Lampornis
xantusii) at flowering Palo adon
(Foukuieria diguetii), La Paz.
Endemic vertebrates of southern Baja include one tiny freshwater fish, 4-6 lizards, 2-3 snakes, two birds (shown here), two rodents mentioned above, and one small bat - Myotis peninsularis, which can occasionally be found roosting at night under highway bridges. There are many more endemics on Sea of Cortez islands, mostly reptiles and rodents.

Rare photo of peninsular
yellowthroat (Geothlypis
beldingi), Estero de San Jose.
Male and female Baja rock lizards (Petrosaurus thalassinus), Punta Final.

Baja rattlesnake
(Crotalus enyo),
Sierra de la Giganta.
Theoretically, it is possible to see all endemic vertebrates of Baja Peninsula in one week. During our visit in March, nights were still cold, and finding reptiles was difficult, so we missed one species - weird subterranean creature called ayolote (Bipes biporus), which looks like a large earthworm with eyes and tiny front legs. Annotated list of all Baja vertebrates we've seen is here.

Baja rock lizard in
mating colors,
Punta Final.

View of the Pacific Ocean from
blooming forest above Cienega Pass
on Naranjas Road, at 1,000 m/3,300'.
Sierra de La Laguna mountains in the southernmost part of Baja are covered with a weird mix of tropical hardwoods, desert succulents such as cardon cactus, oaks, manzanitas, palms, and (above 1,200 m/4,000') La Laguna pinyon (Pinus cembroides var. lagunae). They can be reached either by taking a long hike, by driving scenic Naranjas Road from Santa Anita area, or by risking a very rugged 4x4 track from San Antonio.

Palo blanco, cactus, oaks, and
Picacho Salsipuedes (1,880 m/6,264'),
one of Souther Baja's highest peaks.

San Lucan robin
(Turdus migratorius
confinus), Naranjas Rd.
At higher elevations of Sierra de La Laguna, isolated populations of many northern and mainland Mexican birds exist. Over time, most of them have evolved into distinct subspecies. Some ornithologists and most birdwatchers consider a few of these local races (such as the two shown here) to be full species, but there is no scientific evidence to support these claims.

Cape pygmy-owl
(Glaucidium gnoma
hoskinsii), San Antonio.

Black-throated gray warbler
(Dendroica nigrescens),
Naranjas Rd.
In addition, Southern Baja is a "migrant trap", where lots of birds from the North spend winter after a long trip trough the deserts of Central Baja. Thousands of migratory songbirds fill the forests of Sierra de La Laguna each fall, while many waterbirds stay on beaches and in coastal lagoons.

Black-throated gray warbler
(Dendroica nigrescens),
Naranjas Rd.

Estero de San Jose has a lagoon,
reed beds and a palm oasis.
Estero de San Jose near the city of San Jose del Cabo is a good place to see all kinds of birds, from marine species to warblers, including both Southern Baja endemics. It can be best explored on horseback. Look for peninsular yellowthroats in clumps of reeds at the water edge, and for Xantus' hummingbirds near the stables.

White-faced ibis (Plegadis
chini), Estero de San Jose.
A broad sand beach separates Estero de San Jose from the sea.

Church interior, San Jose del Cabo.
San Jose itself is a pleasant city with few tourists.

San Jose church.

Mural showing 1734 Indian uprising, San Jose.
| | | |
| --- | --- | --- |
| Beach near Cabo San Lucas. | Unlike San Jose, the city of Cabo San Lucas is totally spoiled by mass tourism. Two rocky capes nearby form the southern tip of Baja Peninsula, and mark the border between the Sea of Cortez and the Pacific Ocean. This area is very good for diving. | Beach near Cabo San Lucas. |

Chihuahuan raven
(Corvus cryptoleucos),
near Cabo San Lucas.
One would expect this area to be well studied zoologically, but this is not the case. These pictures are the first record of Chihuahuan raven for Baja California, and they were taken on a beach within a 15-minutes driving distance from both Cabo San Lucas and San Jose del Cabo. Click here to see larger images. Who knows what other surprises await explores in Baja and the Sea of Cortez?

Chihuahuan raven
(Corvus cryptoleucos),
near Cabo San Lucas.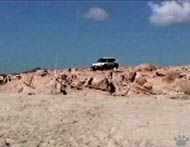 Making it to the southern tip of Baja by car fills
you with a great feeling of achievement.
Part 8: Channel Islands
Back to Part 6